This week, Sapphire admitted that a couple of months it releases Radeon HD 7730 .  This card appeared in China , but recently it have been seen in Japan and Germany.  Thus, Radeon HD 7730 can get a more widespread than expected.
In addition to  PowerColor, Sapphire and MSI, the appropriate video card manufactures XFX company   .  Two options are offered by this manufacturer Radeon HD 7730 : one video cards got 2 GB of DDR3 memory and a low-profile performance, the second was limited to 1 GB of faster GDDR5 memory and a cooling system.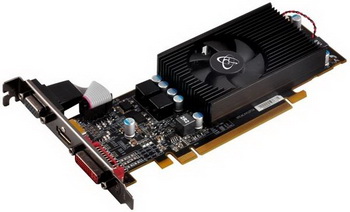 Version with 2 GB  DDR3 memory operates at frequencies 800/1300 MHz.  On the rear panel in a row of ports HDMI, D-Sub, DVI.
Graphics card with 1GB of GDDR5 memory frequency is 800/4500 MHz.  This Radeon HD 7730 version takes up to two expansion slots on the rear panel provides ports HDMI, D-Sub and DVI.
To work with video cards XFX recommends using a power supply with at least 450-550 watts.