Jonsbo Chinese company has expanded its range of VR1 new case, which combines a compact, stylish and austere appearance, and a good capacity, which makes it possible to collect within it a powerful and attractive external systems.
Side panels Jonsbo VR1 casing made of a translucent tempered glass thickness of 5 mm, and the remaining outer panels made of 3mm aluminum.  Chassis shell of 1 mm steel .  Aluminum panels are available in silver, black or red.  Case dimensions of 238 x 239 x 386.5 mm and weighs 5.7 kg.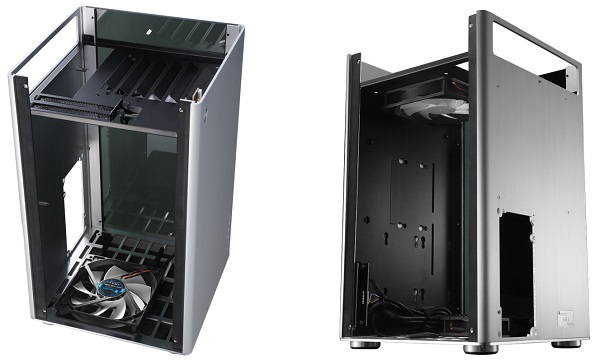 System components are accommodated in the case Jonsbo VR1 rather unusual way.  So, the motherboard size Mini-ITX is mounted on the rear wall of the case, moreover in such a way that the connector panel looks up.  With this placement of the motherboard into the case can easily fit the processor cooling system up to 190 mm, as well as graphics cards up to 320 mm in length.  The card is attached vertically, rather than horizontally, and its front side is seen through the side of the glass wall.  Below the upper body panel has a special compartment is designed for access to the connectors of the motherboard and graphics card.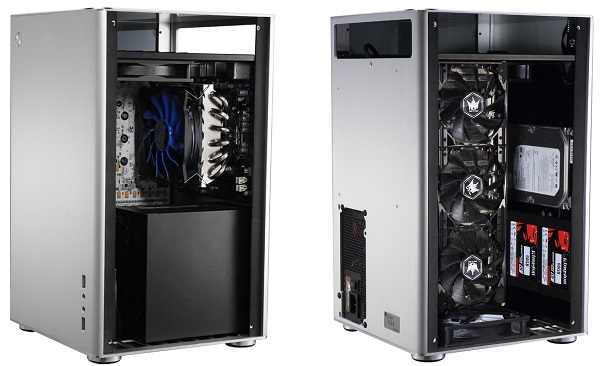 Under the motherboard, there is space for a standard ATX power supply, up to 170 mm, which is set "on edge."  To accommodate storage devices, there is only one 3.5-inch and two 2.5-inch bays.  At the top and bottom chassis panels are pre-installed 120mm fans provide a powerful airflow of all the components.  On the front panel there are two USB 3.0 ports and two 3.5mm audio jacks.


Related Products :