According to rumors, tomorrow, the seventh of July, NVIDIA will present a new video card GeForce GTX 1060. In the meantime, our colleagues from WCCFTech published the first results of  this card  testing in 3DMark benchmarks, and complete with a list of new items characteristics.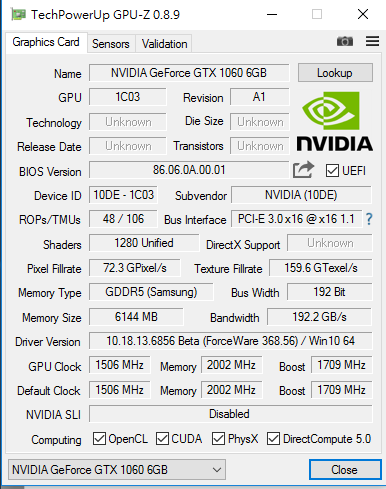 From these data, the GPU GeForce GTX 1060 has 1280 CUDA cores, 106 texture units and 48 raster operator units.  Note that the last two numbers are questionable, as is the case with Pascal architecture the number of texture units must be equal to 80 (the number of CUDA cores divided by 16), although, perhaps, in the case of this video card NVIDIA something changed in the architecture.  
Graphics processor has frequency of 1506/1709 MHz.  The card has 6 GB of GDDR5 video memory, which is connected by a 192-bit bus, and has a frequency of 2002 MHz (effective frequency is equal to 8008 MHz).  The memory bandwidth of 192GB / s.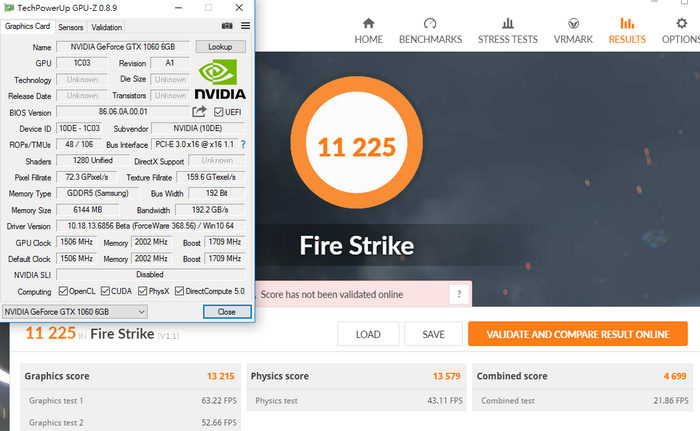 With regard to the benchmarks, GeForce GTX 1060 vs  Radeon RX 480.  In reference frequencies novelty ahead of competitors by about 8 - 10%.  For example, in the test Fire Strike graphics card from NVIDIA scored 13,215 points (Graphics score), whereas in our testing results Radeon RX 480 was 11,954 points.

Related Products :