The German company Aqua Computer, specializing in the production of components of the liquid cooling systems, today announced the completion of a full-cover waterblock line Kryographics Pascal a new model designed for NVIDIA Titan X (Pascal) card.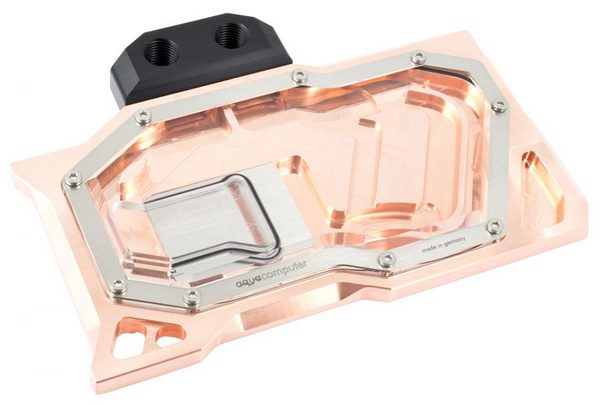 Ground water block Kryographics Pascal for NVIDIA Titan X is made of copper and has a thickness of 10 mm, and in any case a full coating with a water-block, the base is contacted not only with the graphics processor, and memory chips, and power subsystem components.  The manufacturer notes that the water block is designed to use thermal grease, not only on the graphics processor, but also on the memory chips, which provides better heat transfer.  But for transferring heat from the power subsystem uses thermal pads.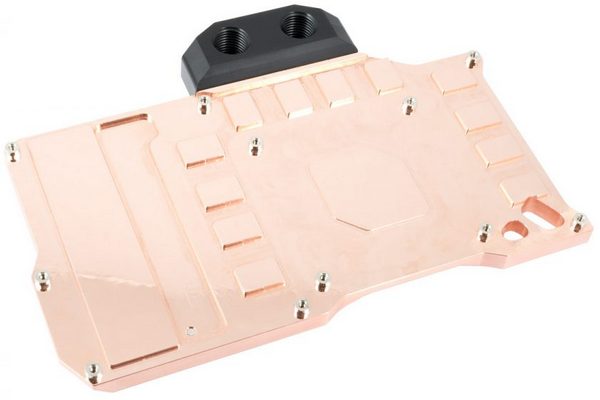 This water block, as in the model for video cards GeForce GTX 1080 and GeForce GTX FE FE in 1070 , a manufacturer uses a "spray bar" (jet plate) over the area of contact with the GPU.  In fact, the micro-channels of the GPU are covered with a metal plate on top to minimize turbulence.  Part of the coolant flow bypasses the bypass channel by the microchannels, thus reducing the resistance and provides better cooling performance of other components.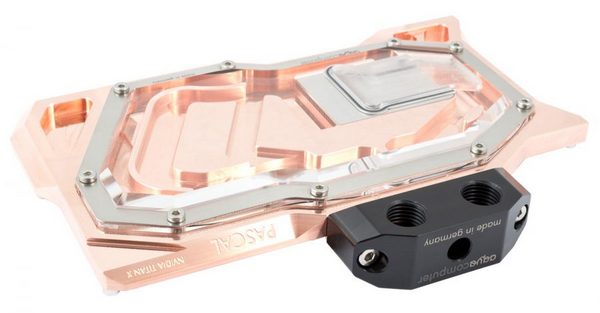 Note that Kryographics Pascal version for NVIDIA Titan X will be released in two weeks with a nickel-plated copper base.  In turn, the upper portion of the water block, depending on the version, may be made either from transparent or frosted acrylic.  

Aqua Computer has already started taking pre-orders on the waterblock with full coverage Kryographics Pascal for NVIDIA Titan X. The novelty will cost 100 euros.  Nickel-plated version will cost 115 euros, the usual reinforcement plate - 25 euros, and a plate with a heat pipe - 40 euros.


Related Products :