As we know, ARM and its supporters expect to eventually grab a decent chunk of the market of server processors.  Company Architecture instruction set ARMv8-A and 64-bit word length is well suited to attack from the bottom - in the segment of high-density servers and energy-efficient computing.  
Some enthusiasts are counting on  higher segment - niche supercomputers.  In principle, it is real, it remains only to pick up a new level of data parallelism.  By the way, NVIDIA is calling its Tegra line of processors for automotive solutions supercomputers.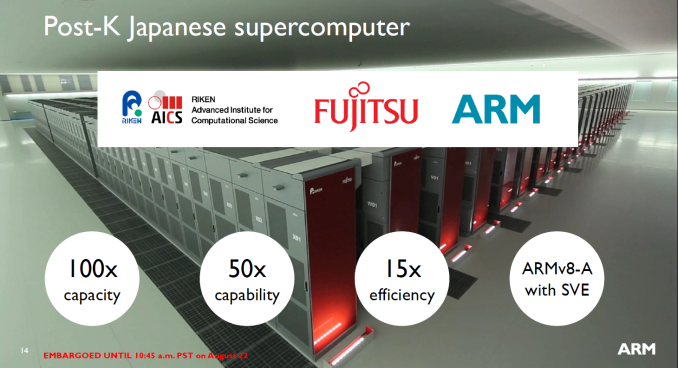 On Monday at the Hot Chips conference  ARM company introduced SVE expansion, which will add a set of commands ARMv8-A and will be licensed separately from the main package.  Extensions SVE are fundamentally different from those already involved a 128-bit extensions SIMD NEON.  Last used to speed up the processing of images and video, while the SVE is involved primarily to perform calculations, and vector calculations - is the basis of supercomputers.  And while Intel has chosen to units with the ability to handle processor 512-bit vectors, and AMD  in the architecture of Zen - a 256-bit (by adding the efforts of the two 128-bit blocks), ARM will allow to operate with vectors length from 128 bits to 2048 bits increments of 128 bits.
On ARM words, once written using SVE code not require further optimization.  Depending on the hardware implementation of the processor during the calculations of the optimal bit vectors will be selected.  For example,  Fujitsu company, is the first to announce full support for SVE extensions, new processors for supercomputers Post-K RIKEN on ARMv8-A nuclei equip the processing units SVE with a 512-bit word length.  We emphasize, Fujitsu "changed" their preferences as SPARC processors and has chosen the most powerful system of the future architecture   ARM and expansion SVE.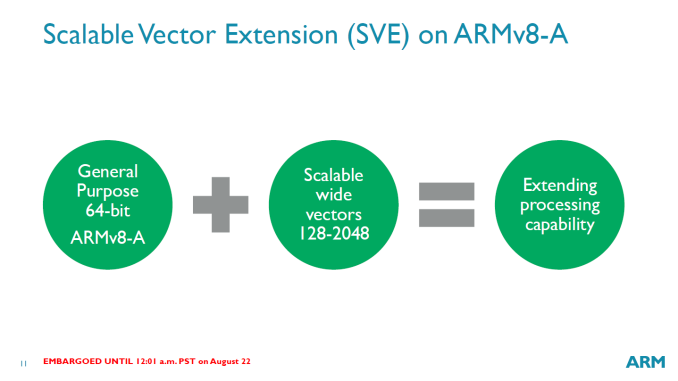 With regard to ARM company's , it made a very interesting move.  And yet, it should be recalled that now there is a process of matching the absorption ARM Japanese company SoftBank.    


Related Products :