The bottom of a personal crisis, the Japanese company Renesas passed in 2013, and in 2015 became a tasty morsel for investors .  Strictly speaking, the "Mobile Giant" Qualcomm's NXP acquired the assets for similar reasons , because the Americans were interested in Freescale development in the segment of automotive microelectronics.
Renesas Representatives in an interview with EE Times said that while competitors had planned mergers and acquisitions, the Japanese company managed to increase its presence in the segment of automotive microelectronics.  At the end of 2015 calendar year,  Renesas in terms of revenue controlled 47% of the components of the market "in the vicinity of the instrument panel", and 44% of the market "instrumental" solutions that work under the hood and in other vehicle systems.  Renesas is now actively engaged in the promotion of platforms suitable for the creation of automotive autopilot and other active driver assistance systems.  The company is determined to oust MobilEye - one of the leading developers of components for automotive systems "machine vision".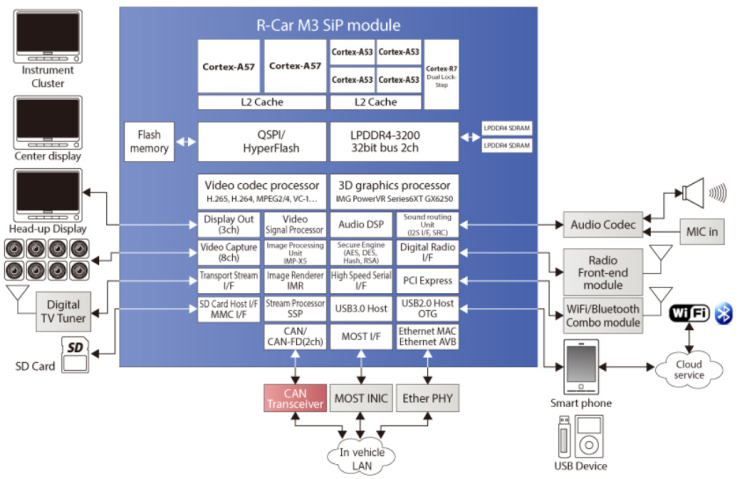 Renesas believes that the cars need a system with a high degree of integration, combining a large number of specialized cores and subsystems.  Perhaps they do not have the computing power of CPUs, but the power consumption allows us to speak about the efficiency of the car.  For comparison, the specialized processor can recognize Renesas three and a half in the second image, but consume only 0.22 watts.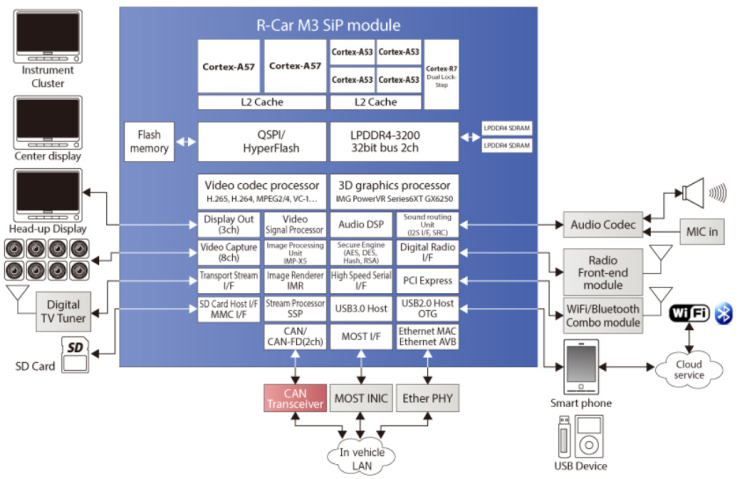 Renesas Developers already offers its reference platform R-Car M3 and R-Car H3 is priced at $ 499 and $ 755, respectively.  The latter uses the most advanced processor Renesas today - RH850, which specializes in typical autopilot problems. According to Renesas representatives  , "complete autopilot" can be realized by using two modules R-Car H3.  Software development is carried out in a Linux environment, and the company pays special attention to compatibility and continuity.

Now RH850 is available on the 40-nm process at TSMC.  In the future, the processor will be transferred to the 28-nm technology.  image recognition accuracy of Renesas platforms has already reached 98.8%.  Clients from among the automakers are actively interested Renesas platforms to create robocar and electric vehicles.  According to the Japanese company, today fixed assets are invested not in the development of power plants and transmission and to the creation of an active driver assistance systems.  In the next 20 years the number of  software code lines used advanced models of cars will increase by 300 times.  Renesas is ready for the challenge and is open to cooperation with new partners.


Related Products :