The desire to raise the rate of profit AMD company declares for a long time, and on the last day of meeting with analysts, it confirmed the desire to break even on net profit (Non-GAAP method) before the end of this year.  Traditionally, more profitable and growing segments of the market and products are called "new" in AMD presentations, but this has been happening for several years already, so there were no real revelations in this part at the event.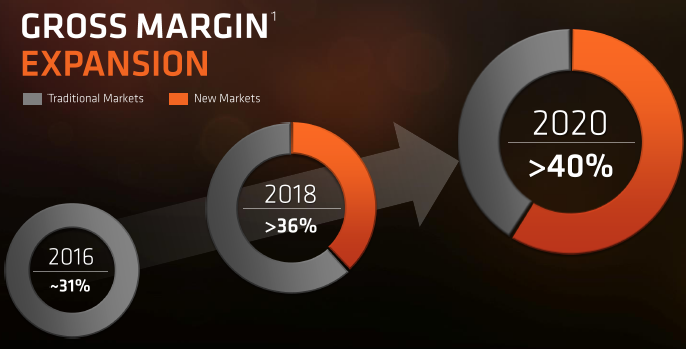 In 2016, the company's profit rate did not exceed 31%, but already in the next it should grow to 36%.  In addition, revenue for next year should increase by double-digit percentage.  Finally, by 2020, the rate of return should reach 40%.  How this will be achieved, you can understand from the previous news - AMD is going to focus on more profitable products in the sale.
In the future, AMD would like to increase the rate of profit to 44%.  This should be promoted both by the expansion of the range of products, and by the increase in the average price of their sale.
Corresponding slides during the speech of the financial and general directors of AMD were mentioned several times.


Related Products :