Our colleagues from AnandTech site posted a series of photos of 140 GB SSD Intel Optane  memory 3D XPoint.  
Intel Optane drive Sample armed bus with  PCI Express 3.0 x4.  On the back of the SSD covered with a protective plate, and on the outside - black radiator.  To the touch, by the way, the radiator from working under load SSD appeared to be hot.  According to subjective estimates of the author notes - not less than 40 degrees Celsius.  As explained by Intel representative sample of the controller is based on the FPGA, so with the advent of ASIC-version controller SSD consumption will decrease.  As long as the controller for SSD Intel Optane is in development, and the first production model, as can be expected, too, will be on FPGA-controller.

Intel also said they successfully tested a new intermediate abstraction layer that will be "transparent" is embedded in the traditional hierarchy of the system for processing and storage.  Thus, the combination of SSD Optane and conventional DRAM will work like a "monolithic" DRAM-memory array.  When working with massive databases of such a bundle will be slower than normal RAM, but the payoff is that you can get away from the treatment operations to the SSD / HDD with all its possibilities.  For example, opening up the possibility for a sharp increase in the volume of RAM and simplifying programming.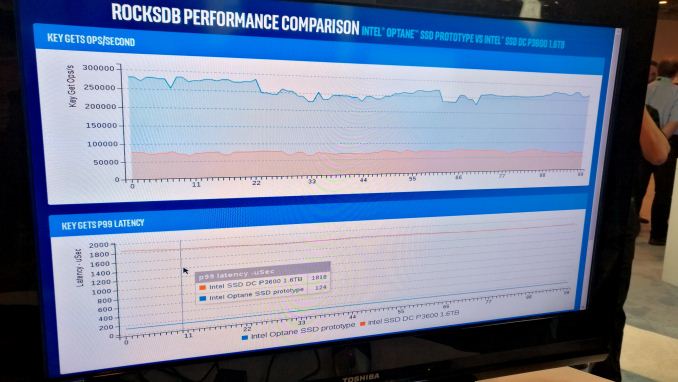 As for the actual advantage to SSD SSD Optane on NAND-flash, the demonstration again revealed the multiple advantages of 3D XPoint.

Select Rating :

Photos 140 GB SSD Intel Optane IDF 2016
Add Comment ( 1 )
PHOTOS 140 GB SSD INTEL OPTANE IDF 2016