In light of the high-profile news about AMD Zen and NVIDIA GeForce GTX 1060 3 GB , we missed some very interesting news: Hewlett-Packard has updated line of laptops HP Omen productive.  And this news is interesting primarily because it represented one of the notebook is equipped with a discrete graphics card AMD Radeon RX 460.
However, the mobile version of Radeon RX 460, like  NVIDIA, cleaned of marking new cards suffix "M", which is indicated to belong to mobile solutions.  And this decision is quite justified, because the mobile Radeon RX 460 demonstrates almost the same level of performance as its desktop analog   
AMD compared the performance of mobile and desktop Radeon RX 460 in such games  Dota 2 (Ultra), of Fallout 4 (High), Grand Theft Auto V (High), Mirror's Edge Catalyst (Average) and Shadow of Mordor (High).  All games were tested in the resolution 1920 x 1080 pixels.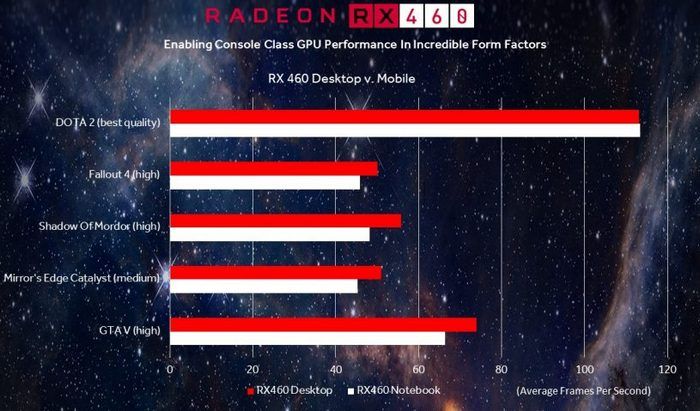 The difference in performance mobile and desktop versions of the Radeon RX 460 was only about 5 - 7 fps to, and most likely it is connected not only with graphics cards, but processors, because the company desktop video card made Intel Core i7 6700K, overclocked to 4.5 GHz, and mobile - Core i5-6300HQ.  Also, the difference can be associated with different drivers.

Select Rating :

AMD revealed details about the mobile Radeon RX 460 version
Add Comment ( 1 )
AMD REVEALED DETAILS ABOUT THE MOBILE RADEON RX 460 VERSION