In July, Intel admitted that already supplies its clients with processors generation Kaby Lake.  Potential buyers do not expect these CPUs breakthroughs in performance and revolutionary improvements in energy level - Kaby Lake will take as a basis Skylake architecture, and will be released is still 14-nm process technology.  It is not surprising that Intel's partners are ready to release finished computers on Kaby Lake processors.
HP Company, for example, already mentioned one of the mobile models Kaby Lake as part of its series of convertible PC Pavilion x360 m1 - and it can be equipped with processors skylake, but certain modifications receive processor Core i3-7100U generation Kaby Lake.  It will offer dual-core 2.4 GHz and 3 MB cache in the third level will support DDR4-2133 memory type.  As  graphics processor will use the Intel HD Graphics 620. TDP value will not exceed 15 watts.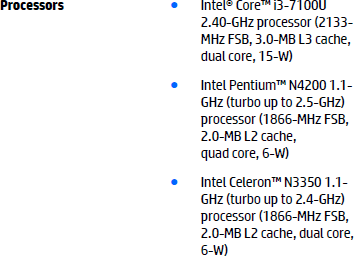 Processors Pentium N4200 (1.1 / 2.5 GHz) and Celeron N3350 (1.1 / 2.4 GHz) are Apollo Lake family.  They will receive 2 MB cache in the third level and the graphics system Intel HD Graphics 520, will support DDR4-1866 memory type and limit the level TDP not more than 6 watts.  This is all the more interesting when you consider that the Pentium N4200 will have four processing cores.  Celeron N3350 limited to two cores.
The graphics system of these processors provide hardware decoding of HD-video, support for DirectX 12 and HDMI 1.4.  Perhaps  computers based on Kaby Lake and Apollo Lake processors will be offered this fall.

 

 

Select Rating :

HP blabbed about mobile processors Intel Kaby Lake and Apollo Lake
Add Comment ( 1 )
HP BLABBED ABOUT MOBILE PROCESSORS INTEL KABY LAKE AND APOLLO LAKE