AMD has used the event SIGGRAPH 2016 for the announcement of the professional graphics cards Radeon Pro WX series based on the graphic Polaris generation  processors, which in the hands of end-users will get only in the fourth quarter  2016.
It opens a new line of graphics solutions for professionals in the approved personally head RTG Coduri Raja  corporate blue color accelerator Radeon Pro WX 7100, which will offer GPU Polaris 10 and 8GB of GDDR5 memory at a price not more than $ 1,000.  Unlike gaming solutions such as Radeon RX 480, which echoes the new features, Radeon Pro WX 7100 is content with the performance of one slot.  The rear panel has four outputs DisplayPort 1.3, providing the output image with a resolution of 5K to four monitors simultaneously.
This product is retained in 2048 stream processors, which provide the computational performance of 5 teraflops.  
Even more compact support GPU Polaris 10 (Ellesmere) was given the name "Radeon Pro WX 5100" and 1792 stream processors active.  Memory and bus remained the same - 8 GB of GDDR5 and 256 bits, respectively.  But TDP level is reduced to 75 watts, and it eliminates the need for additional power connector performance level should reach 4 teraflops, the layout of the ports on the back panel has not changed.  The cost of Radeon Pro WX 5100 must meet the $ 1,000.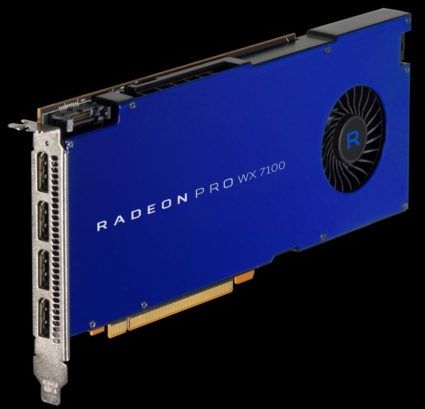 Radeon Pro WX 4100 based on the graphic processor Polaris 11 (Baffin) will please not only the low-profile performance, but at the cost of not more than $ 500.  The decision received 1024 stream processors and 128-bit bus, which connects the graphics processor with 4 GB of GDDR5 memory type, operating at a frequency of 7 GHz QDR.  The performance level at the level of 2 teraflops prevents illusions.  TDP value does not exceed 75 watts, which allows the video card to work without additional power connector.  On the rear panel are located four outputs mini-DisplayPort, which can simultaneously work with four monitors.
All graphics accelerators of this family are equipped with a three-year warranty, but AMD offers free and expanded seven-year warranty.
A separate item on the agenda of the event went announcement of graphics accelerator Radeon Pro SSG.  AMD offers transfer solid-state buffer capacity of up to 1TB of GPU closer to Polaris 10, and to teach them to communicate directly via the PCI Express interface.  Apparently, PCB Radeon Pro SSG provides a connector for installing the SSD M.2.

Select Rating :

New AMD Radeon Pro Polaris will take no more than one expansion slot