AMD results in the second quarter, as always, were quite controversial, but the investor community on the publication of the report responded positively - after the close of trading session on NASDAQ AMD's stock price rose by 7.28%.  Perhaps this is the best indicator of confidence degree   in the company.
The company's revenue in the reporting period exceeded one billion US dollars, amounted to $ 1.027 billion. Operating loss was reduced to $ 8 million., And net income of $ 69 million. All lets talk about profitability at a particular interval.  However, in the last quarter, AMD got the money for the sale of assets of the joint venture to test and packaging of processors in the amount of $ 351 million.  Support was provided by royalties and other joint venture that will develop chips for Chinese servers - amounted to $ 26 million, however, the most significant contribution to improving the financial performance of AMD have video game consoles, which are predominantly formed  58% of revenue..  In this area, revenue increased by 59% compared with the previous quarter.
Talking about the dynamics of total revenue, AMD says it increase by 23% for the quarter and by 9% in the annual comparison.  .  
The decline in demand for desktop processors and chipsets caused decreased unit revenues by 5% compared to the first quarter, to $ 435 million, however, compared to the second quarter  last year, the noticeable increase in revenue by 15% -. Due to increased sales volumes of processors for laptops and graphics solutions.  At the same time as Intel, AMD in the second quarter increased the average selling price of products at the expense of desktop processors, but in the annual comparison, this figure fell "due to" mobile processors, which on average have become cheaper.
The average selling price of AMD graphics processors has remained at the same level with the first quarter  this year, but in the annual comparison has decreased  due to desktop graphics solutions, which have become cheaper.  Total unit within the Computing and Graphics increased the net loss from $ 70 million to $ 81 million. Due to a decrease in revenue.  Dumping clearly goes to the benefit of AMD.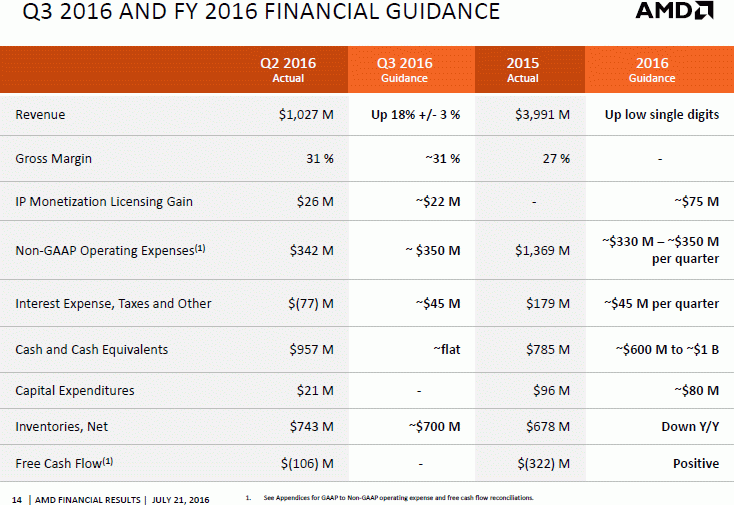 Among the main events of the second quarter, AMD reckons output graphics solutions with Polaris architecture (is it only Radeon RX 480), the beginning of deliveries of hybrid seventh-generation processors for laptops (Bristol Ridge and Stoney Ridge), as well as the demonstration of Summit Ridge processors samples Zen architecture.  The company admitted in passing that will supply their solutions gaming console Xbox One S and future Project Scorpio, which will be released by the end of next year.
In the next three years, AMD is going to increase its share of the roar of central and hybrid processors and graphics solutions - in kind, rather than value.  In addition, AMD wants to take a "significant stake" in the segment of server products.

This year the company expects to increase revenues in the interest of unity and reach a positive cash flow.  In the third quarter AMD's revenue is expected to grow by between 15% to 21%.  This will contribute to not only "custom-made" solutions, including products for new customers, but also graphic products.  The rate of profit  remain the same - 31%.  Last year, the latter figure does not exceed 27%, so that the positive trend observed in this area.

Select Rating :

AMD operating result