Intel has presented an opportunity to save the old motherboard in the transition to the use of processors Broadwell-E and already begun to prepare for the inevitable modernization of the platform LGA 2066 , which will be released with processors Skylake-X and Kaby Lake-X.  
The number of cores will vary from six to ten, TDP does not exceed 140 watts,  four-channel memory DDR4-2400 DDR4-2666, depending on the modules number  .  In the maximum configuration Skylake-X will be supported by PCI Express 3.0 44 lines - four more than its predecessor.  At the same time six-core model Skylake-X number of supported lines PCI Express 3.0 will not exceed 28 units. Skylake-X  processor cache volume will also change, but in the smaller side - no more than 13.75 MB to 25 MB in Broadwell-E.
As processors Broadwell-E, their successors will support Turbo Boost 3.0, but Kaby Lake-X will be limited Turbo Boost 2.0.  In addition, the latest family of processors will only support 16 lines PCI Express 3.0 and have four cores, and DDR4-2666 or DDR4-2400 memory type will work only in dual-channel mode.  TDP level increased to 112 W.  Emphasizes that  Kaby Lake-X processors will have the performance of LGA 2066 - this will allow them to work in the same motherboards with Skylake-X.  Processors Kaby Lake-S performance of LGA 1151 will remain, but will require the use of new motherboards.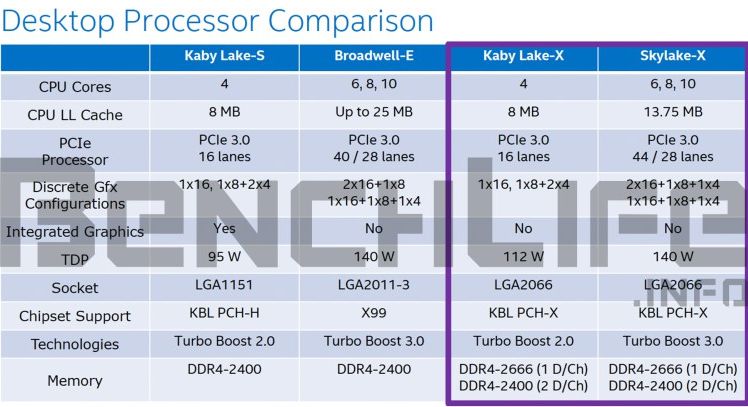 Kaby Lake-X chipsets will support up to ten USB 3.0 ports and eight ports SATA-600, and up to 24 PCI Express 3.0 lines.  Platform Basin Falls, which simultaneously allows to work with processors Skylake-W workstation must be in the active phase of the life cycle of up to 2020, when there will be processors LGA 2076 (Socket R5).  

Select Rating :

The differences and similarities of processors Skylake-X and Kaby Lake-X
Add Comment ( 1 )
THE DIFFERENCES AND SIMILARITIES OF PROCESSORS SKYLAKE-X AND KABY LAKE-X