Biostar company will produce the optimal motherboard for "miners" - it equips this product with slots for connecting 12 video cards, and the corresponding connectors are arranged in two rows at the usual interval.  ASRock, as we know, is a supporter of single-row layout, and this feature of the motherboard H110 Pro BTC + is well known to us.  However, since this motherboard appeared in Japanese retail, it allows us to return to the study of its exterior.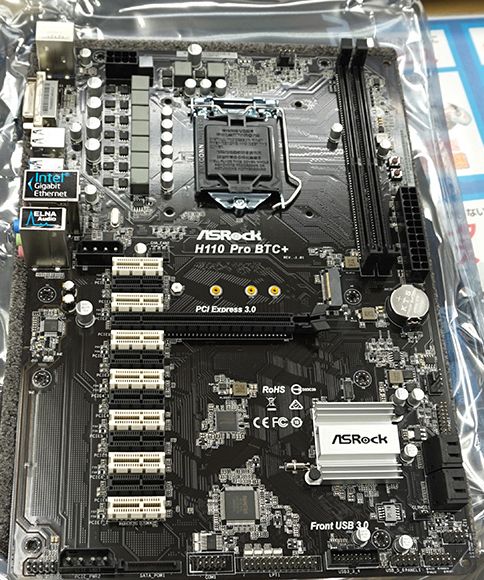 The signature "PCI Express 3.0" over a single long connector of this type should not mislead the buyer - on the motherboard it is said that the PCI Express x16 slot is operating in PCI Express 2.0 mode.  The same applies to 12 slots PCI Express x1.  However, elsewhere in the box, the long PCI Express x16 slot is again under the description of "PCI Express 3.0".  
Such a dense placement of neighboring interface connectors implies that all 13 pieces can be used simultaneously only with the use of special adapters and extension cords.  However, for "crypto-stars" this is a completely natural solution.
It is interesting to mention the presence of three additional power connectors on this motherboard.  Two four-pin Molex is really provided above and below the expansion slot section, but the third power connector is formally designed for devices with a Serial ATA interface (in the picture it is circled in yellow).  Obviously, a free plug of the power supply unit of the appropriate type can be used not for its intended purpose.

Both the sound subsystem and the M.2 connector on this motherboard are present, so it's necessary to talk about reasonable minimalism, except when looking at the number of DIMM connectors.  In the Japanese retail ASRock H110 Pro BTC + costs about 140$ in terms of the current exchange rate.  

Select Rating :

Again we are studying the layout of the motherboard with the possibility of connecting 13 video cards
Add Comment ( 1 )
AGAIN WE ARE STUDYING THE LAYOUT OF THE MOTHERBOARD WITH THE POSSIBILITY OF CONNECTING 13 VIDEO CARDS