Asus has expanded its range of  graphics card Radeon RX 480 with its own version, and the new version of its own GeForce GTX 1070. Novelty called Asus Turbo GeForce GTX 1070.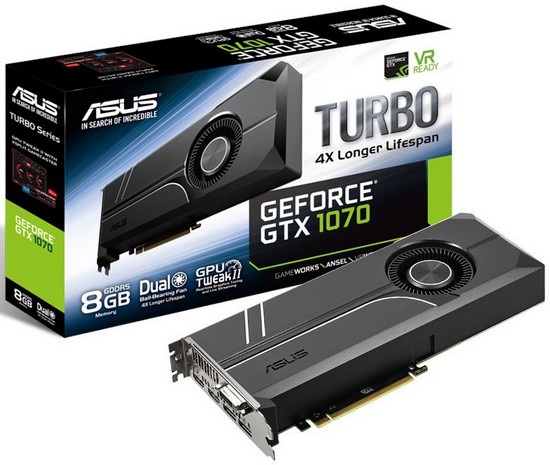 The manufacturer has decided to reduce the price card Turbo GeForce GTX 1070. That is why the new product is based on the board, is very similar to the reference, and running a graphics card with the same frequency as all the GeForce GTX 1070 Founders Edition.  The GPU has a frequency trends 1503/1683 MHz, and 8 GB of GDDR5 VRAM operate at a frequency of 8008 MHz.
Cooling Turbo GeForce GTX 1070 is also similar to the reference.  It includes a radial fan double ball bearing, as well as a fairly large heatsink, which is hidden under the black aluminum casing.  Asus logo on the side of the cooling system has LED backlighting.  On the rear panel is a video card with two connectors Display Port and HDMI 2.0, as well as a DVI-D.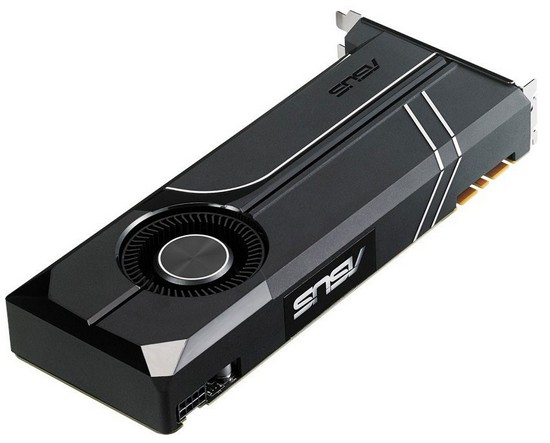 The power system Turbo GeForce GTX 1070 is made from high quality components Super Alloy Power II.  For additional power supply is equipped with a new 8-pin connector.  We also note that next to the power connector is located a 4-pin connector for DC fans .

Select Rating :

Asus presented the video Turbo GeForce GTX 1070, which is very similar to the reference
Add Comment ( 1 )
ASUS PRESENTED THE VIDEO TURBO GEFORCE GTX 1070, WHICH IS VERY SIMILAR TO THE REFERENCE