AMD introduced the Ryzen Pro family of processors for corporate use, which included two processors from the younger Ryzen 3 Pro family.  As you know, the consumer versions of the processors of this family, without the prefix Pro in the name, will be released in the second half of this year.  And given the fact that the rest of the Pro product line does not differ in its basic specifications from its consumer counterparts, it can be argued that the Ryzen 3 1300 and Ryzen 3 1200 processors will be the same as their "professional" counterparts.
It follows that the Ryzen 3 1300 and Ryzen 3 1200 processors will offer four cores and four streams with frequencies of 3.5 / 3.7 and 3.1 / 3.4 GHz.  Each core will have 512 KB of L2 cache, and the total cache of the third level will be 8 MB.  The TDP level of both new products is expected at 65 watts.  As for the cost, taking into account that the younger Ryzen 5 1400 costs $ 169, we can assume that the price of Ryzen 3 1300 is $ 149, and Ryzen 3 1200 - $ 129.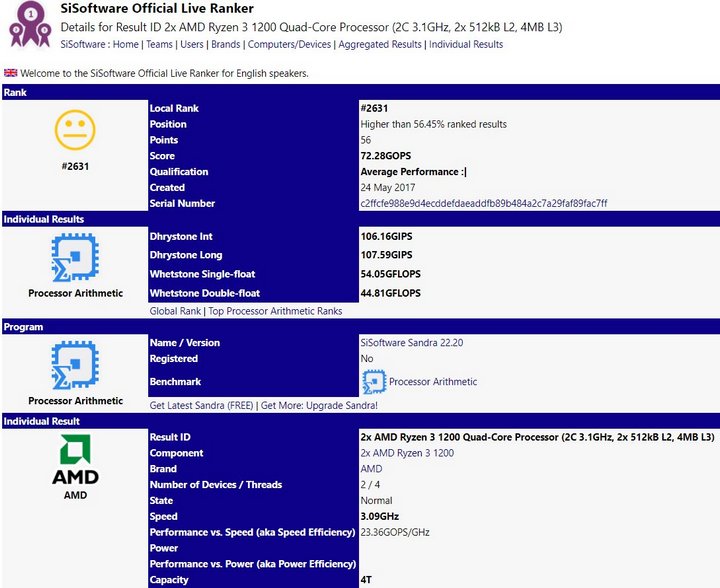 Our colleagues from WCCFTech found several results of synthetic tests of the younger Ryzen processors.  So, in the SiSoft Sandra database, a record was found about the Ryzen 3 1200 processor, where for some reason it was defined as two dual-core processors.  The processor showed very good results, demonstrating the performance in 72.28 GOPS (billion operations per second) in the overall test, and 54.05 and 44.81 GFlops in single and double precision operations, respectively.  These figures roughly correspond to the performance of the Intel Core i7-2600K (without overclocking), which is still very popular.
Also, the results of testing Ryzen 3 1200 in the benchmark Passmark were published, where he showed a score of 7043 points.  For comparison, the processor Intel Core i5 3570K at standard frequencies is gaining 7151 points, and the Core i7 2600K is also at the reference frequencies - 8221 points.  It turns out that the younger processors AMD Ryzen will also be able to offer a very good level of performance, and most importantly at an affordable price.

 

Select Rating :

Synthetic benchmarks of AMD Ryzen 3 1200 processor performance
Add Comment ( 1 )
SYNTHETIC BENCHMARKS OF AMD RYZEN 3 1200 PROCESSOR PERFORMANCE