EVGA Company offers a line of case DG-8, designed for high-performance gaming systems.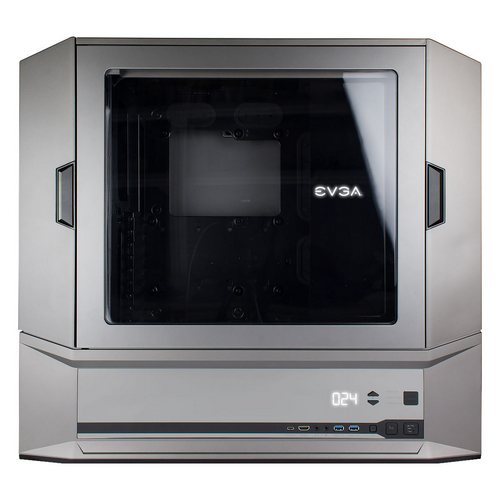 EVGA DG-8 are made in the form factor Full Tower and dimensions 686 x 270 x 642.45 mm and they weigh, depending on the model, from 17 to 19.6 kg.  New items easily accommodate  motherboards sizes E-ATX and ATX (more compact), and in addition, buyers will be satisfied with the possibility to install up to four very long double-slot cards, as well as very high CPU cooling systems (specific dimensions are not specified).
Also there is the ability to install up to eight 140-mm or 120-mm fans.  Air vents are equipped with removable dust filters.  Supports and installation of liquid cooling systems with two 360- or 420-mm radiator.  At the bottom of each side of the case has two ports USB 3.0, HDMI port to connect the VR-headset, as well as automatic overclocking button K-Boost.
DG-84 and DG-Model 85,  differ   only in the presence of the latter a large acrylic window on the side panel, supporting up to two 3.5-inch or four 2.5-inch drives.  Also, the case does not have a pre-installed fans.  
 EVGA DG-86 and DG-87 can hold up to 12 drives, and also come with a 4 and 6 pre-installed 140 mm fans, respectively.  These case are equipped with a temperature sensor readings from which are displayed at the bottom of the sidebar.  Also, these new items are equipped with ports USB 3.1 Type-C and attachments for pumps and tanks of liquid cooling systems.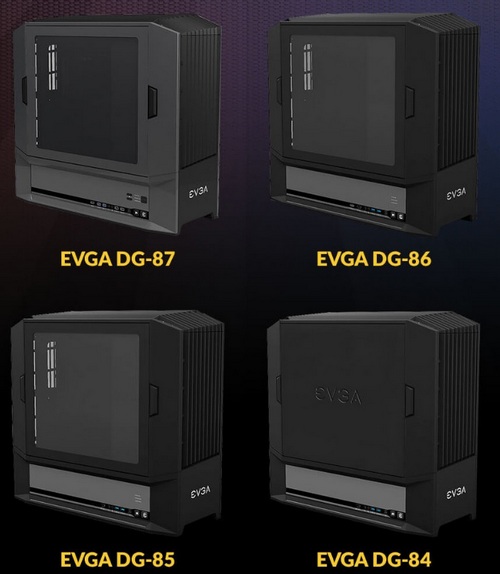 As for the cost, now we have the opportunity to pre-order  the model DG-84, DG-85, DG-86 and DG-87 priced at  $ 100, $ 120, $ 150 and $ 180, respectively.  After the release in August case  will already cost $ 150, $ 170, $ 200 and $ 230, respectively.

Select Rating :

EVGA introduced a line of roomy case DG-8
Add Comment ( 1 )
EVGA INTRODUCED A LINE OF ROOMY CASE DG-8