Philips has expanded its range of monitors with model codenamed 258B6QUEB.  A distinctive feature of this model is the presence of  port USB Type-C, through which can connect the video source, including a laptop, tablet or smartphone.  Philips 258B6QUEB Monitor is built on a 25-inch IPS-type panels with a QHD resolution (2560 x 1440 pixels).  It is characterized by a brightness of 350 cd / m², a static contrast ratio of 1000: 1 and 5ms response time.  In general, these are typical values for the IPS-matrix, as well as angles 178 degrees horizontally and vertically.
It is worth noting that the port USB Type-C can not only display an image on the display, but also  charge The connected mobile device.  Total port can provide up to 60 watts of power and strength  3 A. Finally, it is important to note that this port performs bridging role between the connected device and the built-in monitor port RJ-45, thereby allowing you to connect the power cable to the monitor and use a wired connection the network on your device.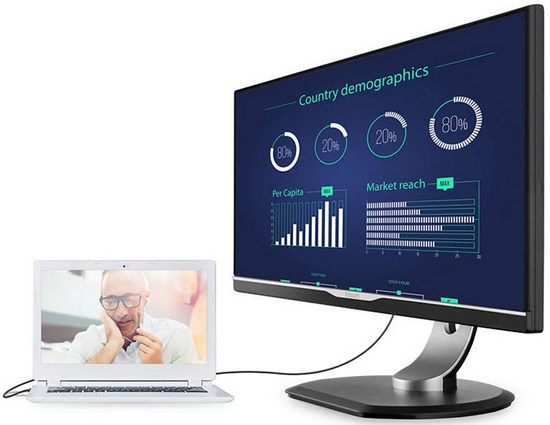 Philips did not forget about the standard array of ports for monitors.  The user can find on the back of news ports DisplayPort 1.2, HDMI, Dual-Link DVI and D-Sub (VGA), and two 3.5mm audio jacks for headphones and microphone.   Philips 258B6QUEB is equipped with a pair of speakers 2 W each.  Note also that the monitor supports technologies to reduce the intensity of the blue lights and eliminate flicker, which reduces the load on the user's eyes.

Philips 258B6QUEB should appear on sale during June for a suggested retail price of 400 euros.

Select Rating :

Philips 258B6QUEB monitor can be connected via a port USB Type-C
Add Comment ( 1 )
PHILIPS 258B6QUEB MONITOR CAN BE CONNECTED VIA A PORT USB TYPE-C