As it was planned , on June 2, Samsung held in New York, a special event, in which it introduced a new fitness tracker Gear Fit 2 GPS-enabled, which allows to more accurately track the movement of users.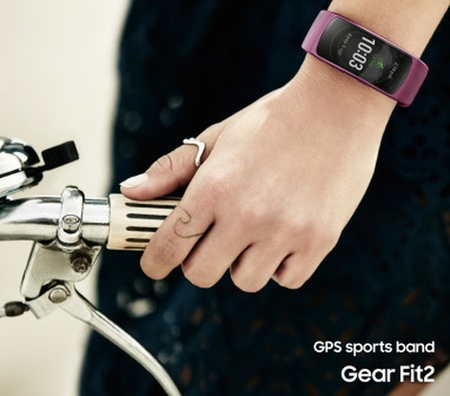 According to SamMobile, Samsung Gear Fit 2 ergonomic design  is equipped with a 1.5-inch curved Super AMOLED touch screen with a resolution of 216 x 432 pixels, an accelerometer, gyroscope, barometer, GPS-module, and the heart rate sensor.  The screen displays the current time, steps, distance and calories burnt.  Samsung Gear Fit 2 is able to sync with S Health or any other fitness app.  Samsung Gear Fit also has 2 dual-core processor clocked at 1 GHz, 512 MB RAM and 4 GB of internal memory, and is powered by a 200 mAh battery.  It is protected against moisture in accordance with standard IP68.  Users can store in  device music tracks and listen to them through a wireless Bluetooth-headset without needing a smartphone while walking or exercising.
Fitness Tracker Samsung Gear Fit 2 will go on sale June 10, 2016 at a price of $ 179.  It will be offered in two sizes and three colors: black, blue and pink.
Together with Gear Fit 2 on Thursday in New York, Samsung introduced wireless headphones Gear IconX.  With the help of headphones, each weighing 6.3 grams, users can not only enjoy your favorite music during training, but also to keep track of distance, speed and heart rate.  In addition, Gear IconX have built-in 4GB storage, and can work without recharging up to 3.6 hours when playing music from the local store, whereas streaming music and user activity tracking battery life is reduced to 1.5 hours.

Select Rating :

Samsung introduced Gear Fit 2 fitness tracker and wireless headphones Gear IconX 3
Add Comment ( 1 )
SAMSUNG INTRODUCED GEAR FIT 2 FITNESS TRACKER AND WIRELESS HEADPHONES GEAR ICONX 3