Asus has introduced a new gaming notebook ROG GX800. This new product has a performance level comparable to the level of powerful desktop systems, which became possible thanks to the fact that the ROG GX800 is equipped with a liquid cooling system.
Asus ROG GX800 definitely become a better and more powerful than its predecessor GX700.  According to Engadget, the gaming laptop is equipped with a pair of graphics cards in SLI bundle and unlocked Intel processor.  But still we do not know exactly what will be used and what kind of graphics processor.  Experts agree that this will be the Core i7-6820K and the Inter pair of GeForce GTX 980.
Another advantage of Asus ROG GX800 is a mechanical keyboard.  This is a good and practical solution for a gaming notebook, because the membrane can not provide the same sensitivity and stable performance in games.  It is also the same mechanical keyboard is more reliable, and easily withstand any load during operation.  In addition, the keyboard is equipped with an LED RGB-backlit, which can be configured by the user.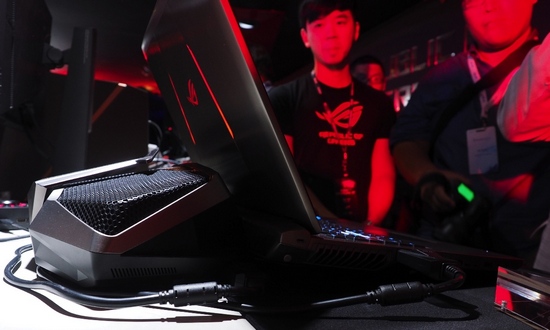 Asus has not announced any cost, nor the date of commencement of sales, or even the exact characteristics of ROG GX800.  The Taiwanese manufacturer only says that it is the highest performing gaming laptop in the world.  It is safe to say that because of the SLI-configuration ROG GX800 will be more expensive than the GX700 with a single graphics card.
ROG GX800, GX700 specifications:
Processor: Intel Core i7-6820HK;

Operating system: Windows 10 Home, Windows 10 Pro;

Chipset : Intel CM236 Express;

RAM: DDR4 2800 (OC) / 2400 MHz SDRAM, up to 64 GB;

Display: 17.3-inch Full HD (1920 × 1080) or IPS UHD (3840 x 2160) matte finish;

Graphics: NVIDIA GeForce GTX 980 with 8 GB GDDR5;

Data Storage: SSD PCIe x4 256 or 512 GB with support for RAID0;

Network: built-in Wi-Fi 802.11 ac and Gigabit network adapter;

Interfaces: Connector for headphones and microphone, three ports USB 3.0, port USB 3.1 Type-C, network port, HDMI, mini-DisplayPort, Thunderbolt, a slot for SD memory cards;

Sound: Asus Sonic Studio;

Battery: 6-cell, 93 Wh;

Dimensions: 429 x 309 x 33-35mm;

Docking station: the outer part of the liquid cooling system (417 x 368 x 114 mm);

Weight: laptop - 3.6 kg with battery, water cooling - 4.8 kg.
Select Rating :

Asus introduced the worlds most powerful gaming notebook ROG GX800
Add Comment ( 1 )
ASUS INTRODUCED THE WORLDS MOST POWERFUL GAMING NOTEBOOK ROG GX800