May turned out to be for AMD's very productive month, even if we do not take into account the invisible to the public activity nnouncement of hybrid generation processors and graphics Bristol Ridge Polaris generation solutions.  Firstly, the company held annual meeting of shareholders .  Second, the chief engineer Marc Peypermaster and Ruth Cotter , chief personnel officer and an expert on relations with investors, have been delegated to the 44th Annual Technology Conference  JPMorgan, where, with varying success replied direct questions from persistent host and several analysts .
In an interview with ITWeek AMD Chief Marketing Roy Taylor had the courage to declare that  Zen architecture will compete with Intel products  not only on price but also on the performance and power consumption level  .  Desktop processors with Zen architecture   company still expects to release by the end of this year, and Polaris graphics solutions will be presented by mid-year.  According to Taylor, AMD has never been so close to  Intel, and "number two" in this race needs to play a leader to be honest.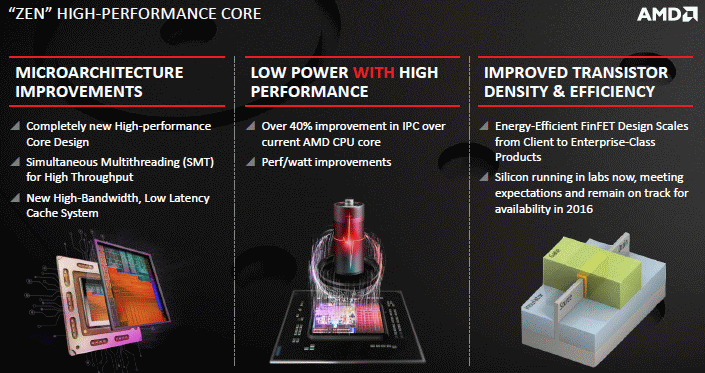 Talking about the innovations in Zen architecture at JPMorgan Technology Conference, AMD chief engineer Mark Peypermaster explained in what areas improvements have been made.  According to him, to improve AMD processors help customers themselves, pointing to the weak points.  We must understand that we are talking mainly about the corporate clients and the server segment, but a certain degree of standardization allows us to hope that customers in the desktop sector will get something out of these optimizations.
Firstly, the processor execution units have been improved.  Secondly, the efficiency cache memory system has been improved.  Third, it has been prescribed speed communication interfaces.  Slide of presentation allows  to speak and the use of simultaneous processing of multiple threads (SMT).  Directly processors Bristol Ridge has come as added participants of the event on the part of AMD.  They provide  performance growth cores and graphics performance by up to 20% compared with the previous processors generation  .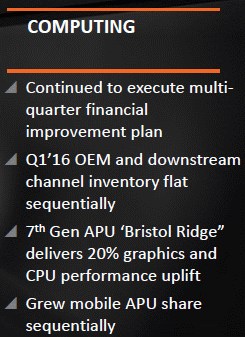 AMD customers will also receive samples of processors with Zen architecture in this quarter.  In the desktop segment, they will appear before the end of the year, in the server - as early as next year.  Mobile carriers Zen architecture stand in the queue last.  This procedure, according to AMD chief engineer, dictated by the hunger performance, which is most strongly felt in the high price segment of the desktop market sector.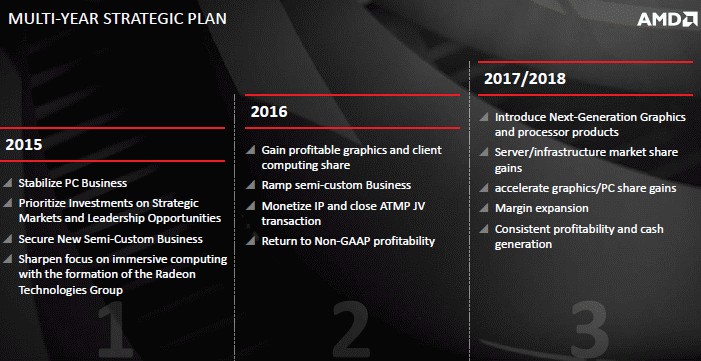 In 2017, AMD promises to present new processors and graphics solutions .  On the charts, it is the second consecutive quarter, the market is consolidating its position, and the statistics Mercury Research says that even before the release of Polaris AMD's market share increased by 3 percentage points.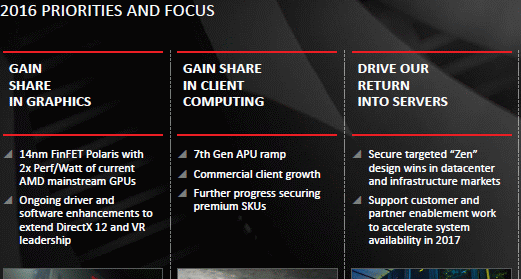 Select Rating :

AMD Zen will compete with Intel products not only on price
Add Comment ( 1 )
AMD ZEN WILL COMPETE WITH INTEL PRODUCTS NOT ONLY ON PRICE