Cooled with water block processor Xeon E5-2699 v4 generation Broadwell-EP was able to raise the frequency of its 22 cores to 2.9 GHz, which is clearly not in line with the expectations of the public.  However, not every enthusiast is ready to risk processors and motherboard, which cost several thousand dollars.  
All weekend enthusiast Toolius overclocked a pair of processors Xeon E5-2699 v4 using homemade liquid cooling system.  Each processor has 22 physical cores, they support Hyper-Threading.  Thus, the dual system can simultaneously operate with 88 threads.  The experiment used a motherboard Asus Z10PE-D8 WS based on Intel C612 chipset.
Let's start with the fact that both processors simultaneously managed to overclock up to 3670 MHz, and it is possible to take first place in many tests that show a strong dependence on the performance of the CPU:
85,039 points Geekbench3;
27.783 seconds wPrime 1024M;
5815 points Cinebench R15;
55.26 points Cinebench R11.5;
5,117 seconds GPUPI for CPU 100M.
It remains to add that the test configuration was so exotic that in many rankings  just could not find competitors.  The processor Core i7-5960X,  with the help of liquid nitrogen was overclocked up to 5700 MHz.  In the same GPUPI for CPU 100M first place  was occupied among the eight-solutions with the result 7.220 seconds.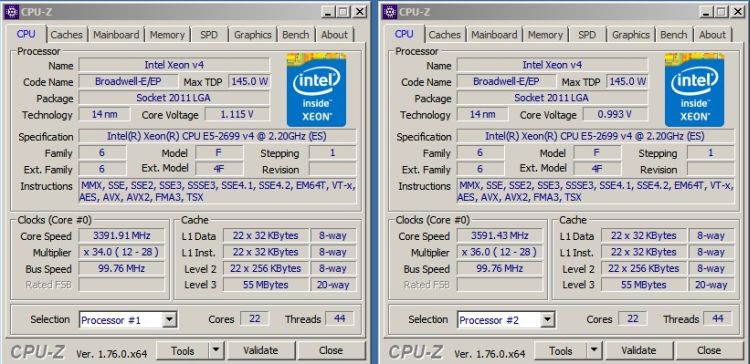 Select Rating :

22-core Xeon processors Broadwell-EP overclocked to 3670 MHz
Add Comment ( 1 )
22-CORE XEON PROCESSORS BROADWELL-EP OVERCLOCKED TO 3670 MHZ