Each quarterly report, somehow related to the market for PC components, generates a flurry of comments .  
However, if you go back to the blasts yesterday  comments about Pascal , the second most important theme of the game after making supercomputers  was clearly car.  Yes, yet in this direction the company does not get as much revenue in absolute terms, but rates are rising invigorating pace, by tens of percent a year.  Even more encouraging NVIDIA guide multiplying projects on the use of the company's products in automotive electronics.  In fact, even now DRIVE PX2-based graphics solutions and the latest generation of Tegra processors GP106 attracts the attention of about 80 partners, some of which have nothing to do with cars.  
And if in fact, explains NVIDIA founder, the company is now more represented in the vehicle infotainment system and "behind the dashboard," then on autopilot development stage backlog is much larger: the amount of ten times more projects in the latter direction than in a banal car multimedia .  This should, according to the head of the company,  show where NVIDIA is moving in the automotive sector.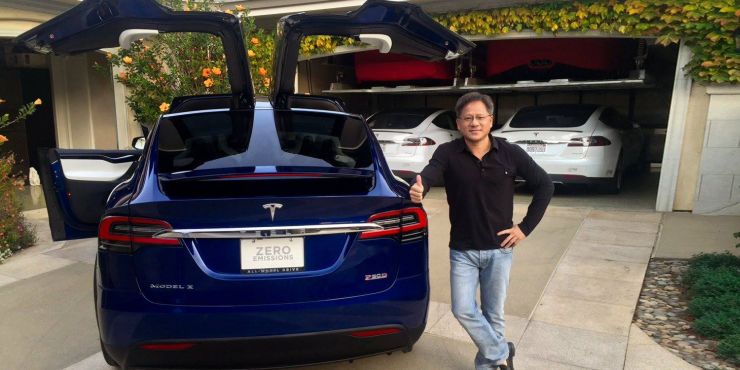 He does not fail to tell it, and how he is moving every day to work and back in a comfortable electric car Tesla Model S.

So, the happy owner explains the roles of co-pilot automatic control technologies for vehicle drivers coexist with the living now.  At least in his Tesla Model S the hero of our story includes an automatic control mode every day, and that he is pleased with the proces.  Cars with  autopilot will go to the assembly line later this year, as explained by the head of NVIDIA.  Obviously, with the exception of the Tesla, it has in mind crossovers Volvo XC90 next model year.  Creating autopilot for cars NVIDIA founder considered challenging but interesting task.

In this area, NVIDIA is ahead of other developers autopilot for three years, according to company management.  DRIVE PX2 - the most advanced "supercomputer" that can be used for automatic driving.  By 2019, when many automakers dare to serial production cars with the autopilot, will deliver the NVIDIA DRIVE PX is already the fifth generation.

Select Rating :

NVIDIA CEO admitted that he daily abuses autopilot
Add Comment ( 1 )
NVIDIA CEO ADMITTED THAT HE DAILY ABUSES AUTOPILOT