And again on  TLC NAND.  AMD company has distributed information about the debut of SSDs flash memory Radeon R3.
As we all remember, SSD AMD Radeon R7 in fact manufactured by OCZ and hardware has been re-mark OCZ Vector 150.AMD has decided to follow the fashion to use the budget based platforms TLC NAND.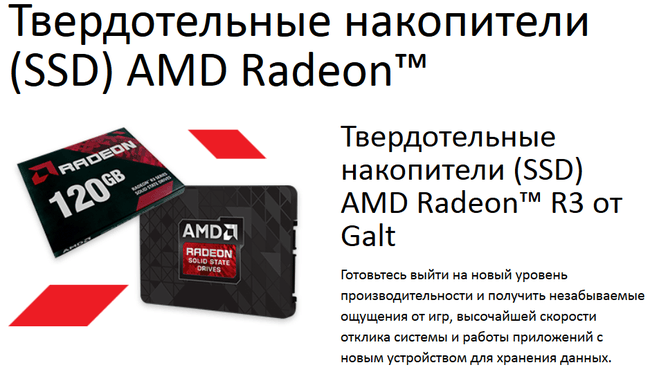 (Source: AMD)
New AMD Radeon R3  , made in the form factor of 2.5 "to 7 mm and is equipped with SATA3 interface. Offered volumes 120, 240, 480 and 960 GB.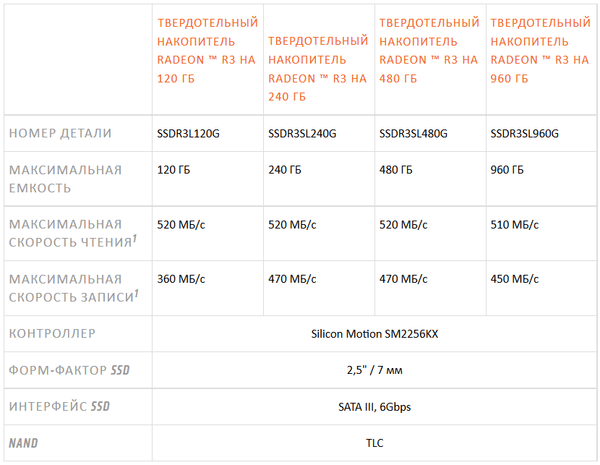 The flash memory  used with this controller is not specified, but there is little options: SK Hynix and Micron's, released on 16 nm process.  This means that we face another clone platform already known for such decisions as ADATA SP550 Premier , Crucial's BX200 , Transcend's SSD220S , and the whole string of solutions in the Chinese market from the little-known brands.

Another surprise is found in AMD provides its new supplier of SSD-  Galt Advanced Technology.    

Select Rating :

AMD introduces new SSD Radeon R3 capacity from 120 to 960 GB
Add Comment ( 1 )
AMD INTRODUCES NEW SSD RADEON R3 CAPACITY FROM 120 TO 960 GB