MSI has launched two new motherboards for Intel Skylake processors in LGA 1151 - MSI E3 Krait Gaming V5 and E3M Workstation V5.  New items are interesting in that they are based on a set of Intel C232 chipset, and this allow  to use not only the Intel Core processors but also Xeon.  The board also supports DDR4 memory with error correction (ECC).
Model MSI E3 Krait Gaming V5 is primarily designed to build powerful gaming systems on the Intel Xeon E3-2600 v5 processors, as well as chips Intel Core i3, i5 and i7.  The motherboard ATX form factor and has four slots for DDR4-2133 memory modules totaling up to 64 GB.  A set of expansion slots includes two slots PCIe 3.0 x16 (x16 / x4), PCIe 3.0 x1 and PCI.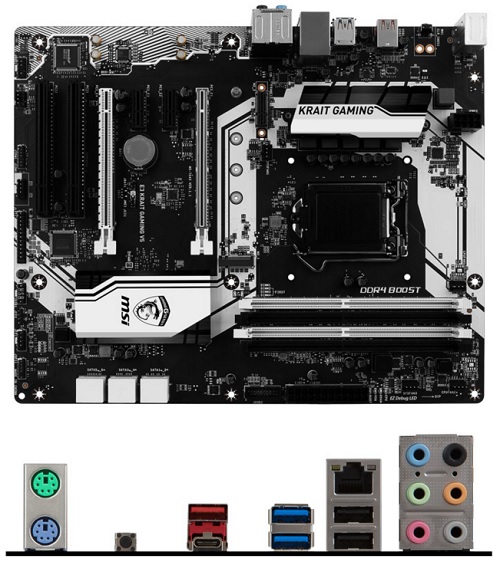 There M.2 and with a bandwidth slot 32 Gbit / s, which can be optionally installed Wi-Fi module.  To connect the storage devices in addition M.2 slot has six SATA 3.0 ports.  The audio system MSI E3 Krait Gaming V5 based on a codec Realtek ALC1150, but for wired network connections meets Gigabit Intel I219.  The rear panel has a USB port 3.1 Type-C.  We should also note the presence of a white LED backlight.
As to the second news, MSI E3M Workstation V5, it is intended primarily to create a workstation Intel Xeon.  This board has a standard size micro-ATX, and much more modest set of slots and connectors.  Thus, this new product has only two slots for RAM DDR4-2133 modules totaling up to 32 GB, and only three expansion slots - one PCIe 3.0 x16 and two PCIe 3.0 x1.  More there are six SATA 3.0 ports, audio system on Realtek ALC887, and Gigabit LAN controller Realtek RTL8111H.  This card is deprived of M.2 slot and port USB Type-C.

Select Rating :

MSI E3 Krait Gaming V5 and E3M Workstation V5 based on Intel C232
Add Comment ( 1 )
MSI E3 KRAIT GAMING V5 AND E3M WORKSTATION V5 BASED ON INTEL C232