Thermaltake has released a roomy case Core W200 made in the form factor Super Tower, as well as the so-called "podium"  - Core P200, which is an expansion unit for the new items.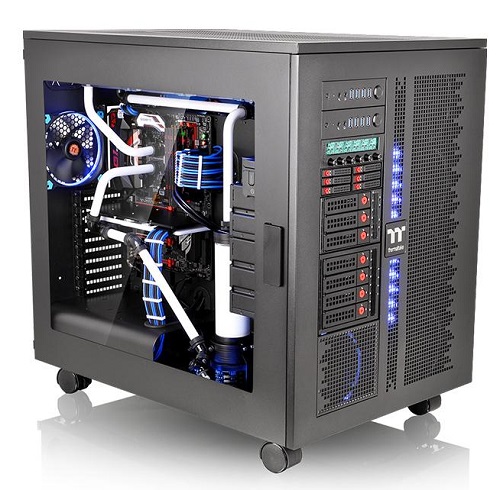 Core W200 case inside is divided into two compartments, each of which can be collected on the base of the system motherboard  E- / XL-ATX size.  Each compartment provides space for the power supply, ten expansion slots and holes for mounting fans and radiator liquid cooling systems.  For convenience, the case has a fully collapsible design.  
In each section you can set the trends CPU cooling system up to 200 mm in height, the video card up to 635 mm, as well as power supplies up to 220 mm in length.   Core W200 allows you to set up to fourteen 2.5- / 3.5-inch drives, and it has three 5.25-inch bays.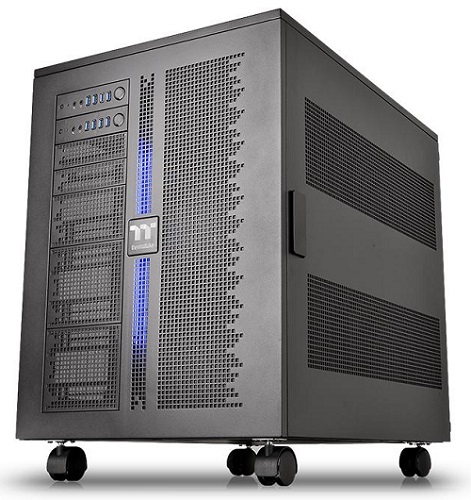 The case can accommodate a huge number of fans: 31 Fan size 120 or 140 mm.  There are many seats and for liquid cooling radiators.  At the same time the body can set a 120/140-mm radiator and two 280 mm, one 360-mm and three 600-mm or 480- / 560-mm radiator.  Air vents are equipped with dust filters.  In addition, there is mounting for tanks with a cooling liquid, with it you can install several.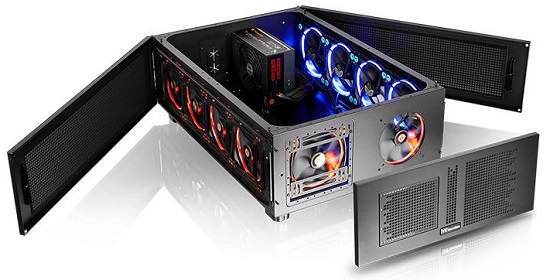 But if space in the Core W200 is not enough,  above or below can be attached Core P200 module, and as a result get the body Core WP200.  Expansion Unit Core P200 also has a fully collapsible design and is intended to be placed in it the fans or radiator liquid cooling systems, as well as it can be placed drives.  The maximum number of 120-mm fans that fit in this module is 23, or in the Core P200 can be mounted on one 480- / 560-mm radiator on the left and right walls, two 560-mm radiator at the bottom of the panel, and two 480- / 560 mm or a 600 mm radiator at the top panel.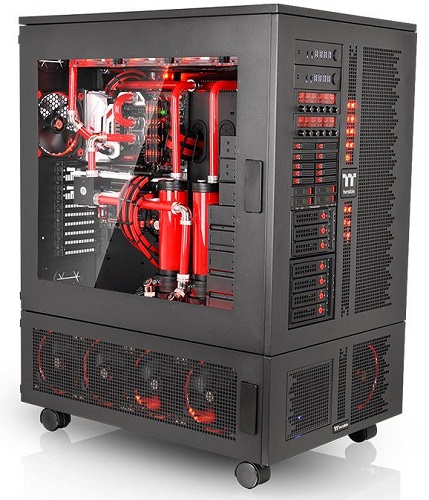 Core W200 has dimensions of 677 x 475 x 678 mm and weighs 28.9 and Core P200 module dimensions are 249 x 475 x 678 mm and weighs 10.2 kg.  That is Core WP200 has dimensions of 475 x 678 x 878 mm and weighs 39.1 kg.  Sales of Thermaltake Core WP200, Core W200 and Core P200 should begin as soon as possible.

Select Rating :

e Thermaltake Core WP200 accommodates two large systems and weighs about 40 kg
Add Comment ( 1 )
E THERMALTAKE CORE WP200 ACCOMMODATES TWO LARGE SYSTEMS AND WEIGHS ABOUT 40 KG