Yesterday, China started spring session IDF 2016. Computer systems in classical form ceased to be trendsetters.  Public interest has shifted to smartphones, tablets and various gadgets.  Against this backdrop, Intel becomes barely noticeable, although the company is making efforts.  Yesterday the company announced a new generation of Atom processors class on a new microarchitecture - a single-chip assembly, previously known under the code name Apollo Lake.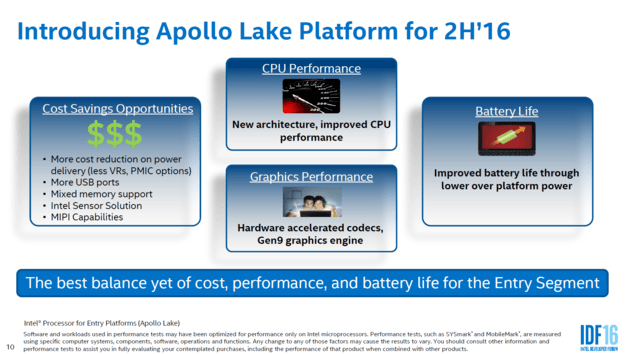 Systems based on these 14-nm solutions appear only in the second half of the year.  It will be massive and inexpensive solutions in the form of laptops, tablets, mini PC systems and 2-in-1.  Specifications of new Atom processor company did not disclose.  We only know that they will be the schedule of the same generation as the processors Skylake (Gen 9).  This means hardware support for advanced video codecs such as HEVC.  AMD is proud to support 4K video platforms in Bristol Ridge processors.  The new Intel Atom can cope with that, too.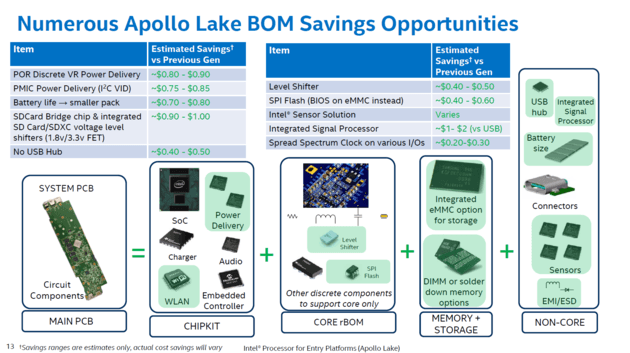 The reference design platforms on Intel Apollo Lake suggests support 4GB memory LPDDR3-1866, LPDDR4 or DDR3L.  Disk systems can be arranged via the interface eMMC storage, or in the form factor M.2.  Power on the device with the Apollo Lake, Intel recommends feeding via USB Type-C.  
Select Rating :

Intel announced processors Atom Apollo Lake
Add Comment ( 1 )
INTEL ANNOUNCED PROCESSORS ATOM APOLLO LAKE