In line with expectations, today the Internet giant Amazon has presented eight devices for reading electronic books Kindle family.   Kindle Oasis order will start from April 27 on the price of $ 290, and for the money reading lover get solution with a six-inch display, such as E-Ink, equipped with built-in lighting from 10 LEDs in a thin shell with an extra battery, a built-in full-time leather cover .
In fact, Amazon divides the battery into two parts: one is located in indle Oasis case, and one as part in the original leather cover.  The latter is fixed to the body of the device with the help of twelve magnets.  In total, according to the manufacturer, Kindle Oasis in the original cover is able to provide up to two months of work at the disconnected adapter Wi-Fi, adjusting the brightness "10" and use it to read no more than 30 minutes a day.
Apparently, the solar battery for Kindle Oasis will be offered for a fee.  On a full charge recovery device requires no more than three hours to connect to the USB port.  You can turn the pages like a touch of the touch screen, and pressing on the side of the front panel buttons.  The device is equally convenient for use in both right and left hand.  The display resolution is less than 300 dpi, the ten LEDs provide the smoothest and brightest illumination of all the products of the family.  Kindle Oasis has the dimensions 143 x 122 x 3,4-8,5 mm.  Dimensions of the cover are 144 x 125 x 1,9-4,6 mm.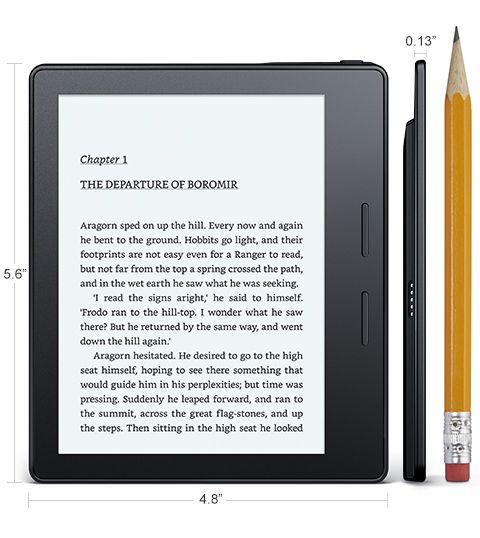 Kindle Oasis only with Wi-Fi weighs 131 grams, the version with 3G-modem 132 grams .  
There is no doubt that the product will find its customers among the fans of reading.  Compact size, light weight, long battery life and good lighting - everything you need to be completely happy loving tourist to read.

Select Rating :

Amazon Kindle Oasis device lasting and easy, but expensive
Add Comment ( 1 )
AMAZON KINDLE OASIS DEVICE LASTING AND EASY, BUT EXPENSIVE