Supercomputer Drive PX 2 was already demonstrated in January this year at CES 2016 at the beginning of next year it will register in serial crossover Volvo XC90, which will start to travel on the roads of  native Gothenburg in automatic mode, and GTC 2016 NVIDIA chapter describes the new technical details of this complex.  Recall that the Drive PX 2 combines two processor NVIDIA Tegra 2 Denver generations  and two discrete graphics processor  with Pascal architecture.  Each processor uses its own memory.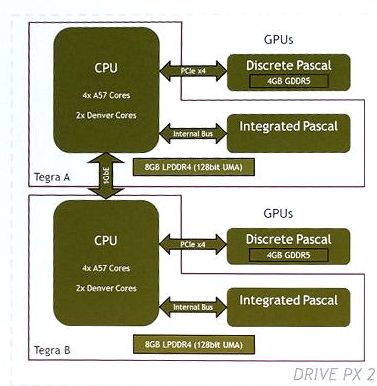 "The complex CPUs," as NVIDIA calls it, consists of two specialized models with Tegra graphics Pascal generation system.  With the latest computing cores communicate on the high-speed internal bus, and PCI Express x4 enabled to communicate with discrete graphics cores Pascal.  Each processor Tegra in this set contains two core architecture Denver 2 and four cores with ARM Cortex-A57 architecture.  It works in 64-bit environment.  Each processor uses the 8 GB LPDDR4 type of memory with 128-bit bus that provides data transfer rates of more than 50 GB / s.
Pascal Graphic processors are satisfied with 4 GB of GDDR5 memory type, with which they communicate using 128-bit bus, allowing data transfer at speeds of over 80 GB / s.  Since GPUs use printed circuit boards such as MXM, similar graphics system certainly can be seen in notebooks.  Recall that the entire complex Drive PX 2 consumes no more than 250 W.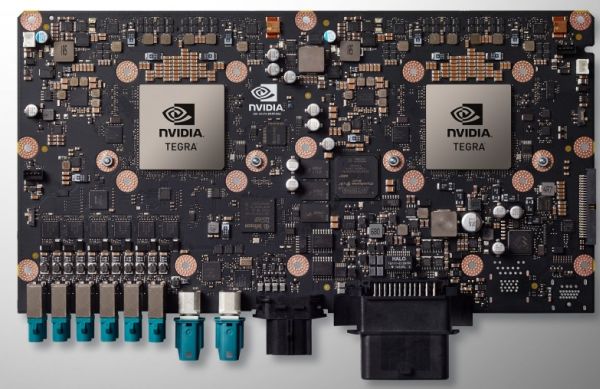 Along the way, NVIDIA announced  intent to supply complexes Drive PX 2 racing robocar .  Their competition will be held next year, ten teams will use two identical electric car, which will compete with rivals on the track for an hour.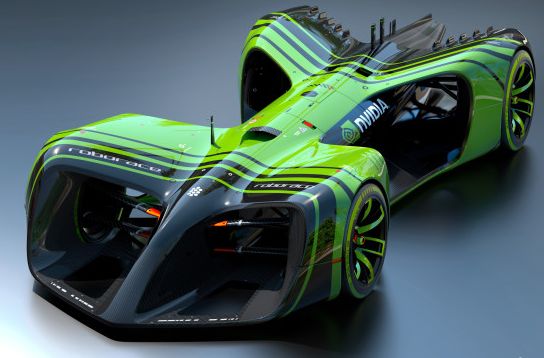 The essence of competition is reduced to the determination of the most advanced electric racing control algorithm - the hardware of all the participants will be the same .  

Select Rating :

System Drive PX 2 Pascal graphics processors are combined with GDDR5 memory
Add Comment ( 1 )
SYSTEM DRIVE PX 2 PASCAL GRAPHICS PROCESSORS ARE COMBINED WITH GDDR5 MEMORY