At the end of the first quarter  Jon Peddie Research research company found that the workstation segment dipped in the fourth quarter by only 0.8%, .  PC market during this period decreased by a two-digit number percent.
Experts attribute this to the fact that end users can be satisfied with the performance level which provide PC three- and even five years ago.  In addition, many of the operations they can perform on tablets and smartphones.
Professional, users working with graphics, scientific and financial calculations, are interested in the regular increase in performance workstations.  Let the market is not so great - in the fourth quarter, it sold 1.04 million desktops, but it is stable enough in its tank..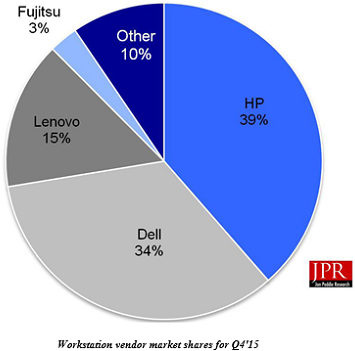 The leader segment remains, HP with 39% market share, Dell (34%), and Lenovo increased its share to a record 15%.  Fujitsu is content with 3% market share, and 10% of the segment workstation generates products of smaller players.

Select Rating :

workstation market dipped slightly
Add Comment ( 1 )
WORKSTATION MARKET DIPPED SLIGHTLY