Backblaze company  has published a report about the reliability of hard drives in 2015.    At the end of 2015, Backblaze racks 56224 worked hard drives in 1249 baskets.  And began the year with 39,690 stores in 882 crates.    Below is the statistics on drives that remained in the December 31, 2015 and provided information on failures.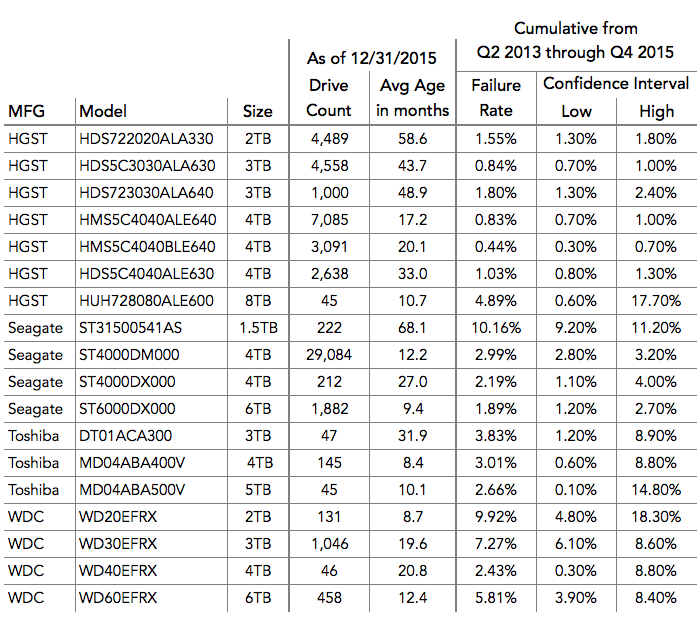 In short, most often failed 1.5TB HDD Seagate models and 2TB WD models.  By the way, 3-Tbyte HDD Seagate models were excluded from the Backblaze datacenter work more on the results of 2014.  But HGST drives were long-lived with a minimal number of failures (Statistics gathered from the third quarter of 2013).  Below are five HDD models with which Backblaze company  decided to part ways forever.  There's also the reduced rating on failures.  The company emphasize, these models continue to work in the data center, but decided not to risk them.  

Relatively speaking, in systems used Backblaze storage drives four manufacturers.  In fact, we see competition Seagate and Western  Digital, since Toshiba launches 3.5-inch HDD in Digital Western former factories, which it received in exchange for a factory for the production of 2.5-inch HDD (it was one of the conditions when Western Digital absorbed HGST), and HGST is part of the company Western Digital.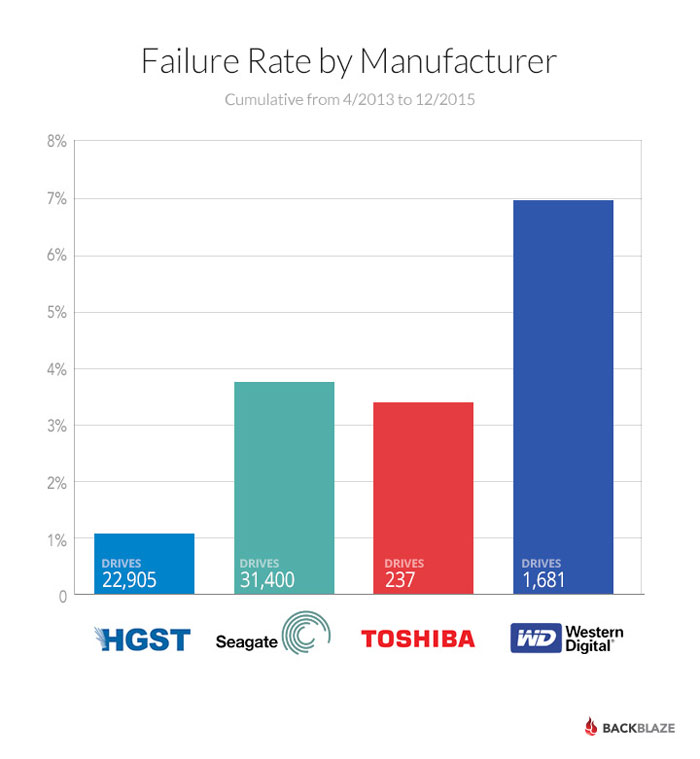 The chart below allows us to understand under what brand stores mainly operate in Backblaze racks.  As you can see,  Seagate drives most - 56%.  By the way, in 2015, more than 16,000 stores acquired almost all of them were  Seagate and 85% of them - 4-terabyte model.
High failure drives Western Digital does not mean that everything is so bad.  For example, some of the failed in the period from 2013 to 2015 disks have long worked before.  For example, 1-Tbyte drives Western Digital have worked non-stop for almost seven years!  Replace them mostly on the 4 TB  storage, thereby increasing the density of data placement and shot models are now used to stress test the new basket, which is being prepared for commissioning.

Also decommissioned 2TB Seagate drives.  The percentage of failure of such models is relatively small - 10.1%, but there was only 225 pieces.   2TB new models to replace them does not make sense, so it was decided to replace the 2TB model by 4 TB.  At the same time, the company will continue to operate the 4500 2TB HGST company models.  They have a low failure rating - only 1.55% .  From 3-Tbyte HDD vendors were all but Seagate.  In this case, failures 3-TB Seagate model were unacceptable (see. The table above).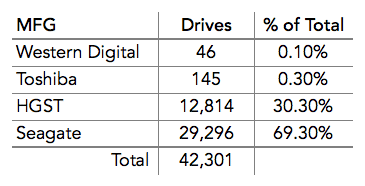 At the end of 2015, when 75% of the Backblaze storage now have a capacity of 4TB.  42301 such device.  The company opted for purchasing 4 TB HDD Seagate.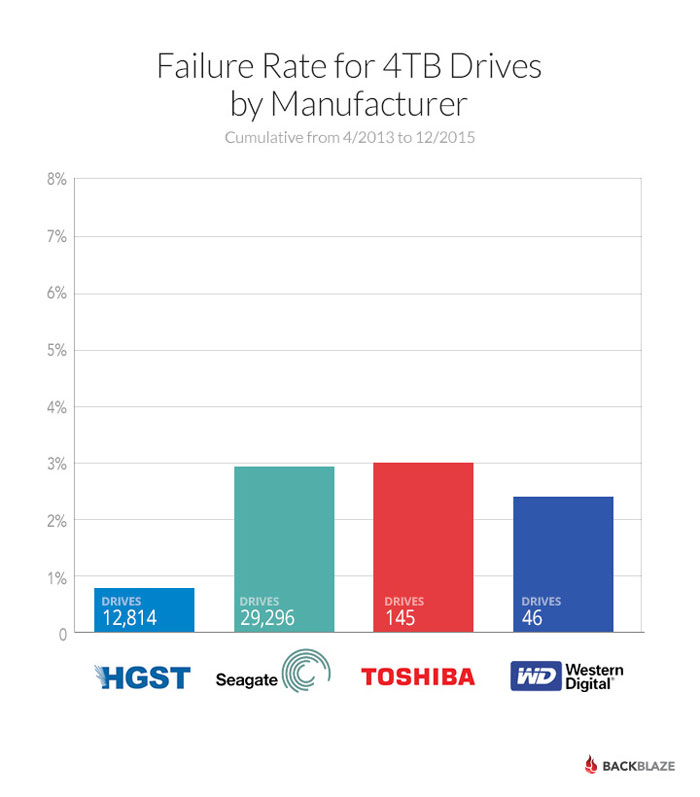 HGST is more reliable models available today.  Under this brand produced a 4-TB models only with the highest performance, and no mass models.
Among the 6-terabyte models Backblaze company also opted for Seagate drives.  So far they have fewer failures than in drives Western Digital.  By the way, the model TB-6 proved to be less energy efficient than TB-4 model.  Increased capacity to 2 TB leads to a significant increase in consumption, which in the case of data centers is fraught with losses in the operation.

Select Rating :

Private view of the good and bad hard drives