At this time, NVIDIA has the ability to use all the adjectives for the best years : a quarterly revenue and annual reached record highs. In the first case, it increased YoY by 12% to $ 1.04 billion in the second case -.. By 7% to $ 5.01 billion Founder Jen-Hsun Huang said that for the success of his creation goes on four main areas: computer games, virtual reality, learning systems and automobile autopilot.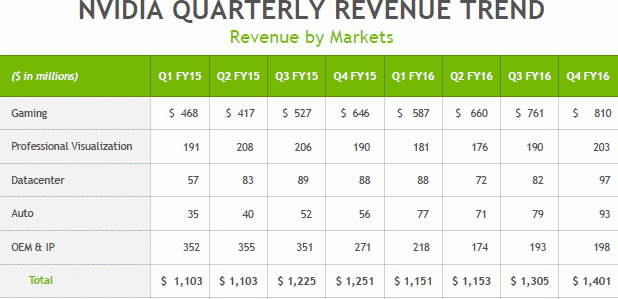 Illustration allows you to evaluate how  NVIDIA's quarterly revenue increased by activity. In the last quarter  gaming products formed 58% of the company's revenue.   GeForce graphics solutions, according to NVIDIA CFO,  have increased the profile of its revenues by 25% compared to the same period of the previous year. The engine of growth in demand is called NVIDIA graphics solutions  Maxwell architecture, reminding that the GeForce GTX 970 is the most popular gaming graphics card according to Steam.
If we consider only graphics processors in all categories, they have provided  NVIDIA 84% of revenue. Dynamics of changes in revenue by activity in the fourth quarter can be tracked in the table below:

It can be seen that significantly increased revenue from sales of Tegra processors - 22% compared to the third quarter, and by 40% compared to last year. Apparently, NVIDIA began to sell more of these processors to manufacturers of automotive electronics. The company even allocates these indicators in a separate category:. $ 93 million brought  contracts with the automotive industry. This is 18% more than in the previous quarter, and by as much as 68% more than the year before. However, at the end of the year, Tegra processors have demonstrated a decrease in revenue of 3%. Interestingly, the graphics processors take approximately the same proportion (83.6%) in annual revenue structure, as in the quarter.

NVIDIA Net profit in the fourth quarter was $ 207 million, for the year -.. $ 614 million profit rate was increased to 56.5% for the quarter and to 56.1% for the whole year. In the first quarter of the new fiscal year, NVIDIA expects to earn revenue of $ 1.26 billion, and to raise the rate of return to 57.2 -. 57.5%.

Yesterday evening Corporation NVIDIA reported about the results of the fourth quarter of 2016 fiscal year, which ended January 31, 2016 in Community Calendar developer of graphics processors.

Select Rating :

Last year, NVIDIAs revenue over 5 billion
Add Comment ( 1 )
LAST YEAR, NVIDIAS REVENUE OVER 5 BILLION