Tesla Motors Company uses non-standard approach to the publication of the quarterly report - it comes out in the form of a letter to investors and shareholders, which CEO Elon Musk ease talks about the successes and failures of the reporting period, alternating dry figures financial statistics projections for the future and wording new ambitious goals.
In fresh quarterly reporting  conference Elon Musk confirmed that the presentation of the first phase of national electric Tesla Model 3 will be held on March 31 this year, but so far he's not sure how much more will be announced on this day information.  Deliveries of Model 3,to the market will start only in late 2017, with the more expensive equipment will fall in the first sale.  Tesla Model 3 must be much easier Flagship sedan Model S, and simpler in design.  Theoretically, the declared price of $ 35,000 for the American market, local consumers can take even up to $ 10,000 in the form of tax deductions and other financial incentives that encourage electric power consumers.  The problem is that the US  benefits for customers of this type  transport are as long as there will be sold 200 thousand copies on all models of the same brand.  By the end of 2017, when the deliveries will start earlier ordered by Model 3 is more expensive Model S and Model  X can already choose all lawmakers allotted limit of 200 thousand electric cars.  In other words, in reality, Model 3 would cost at least $ 35 000.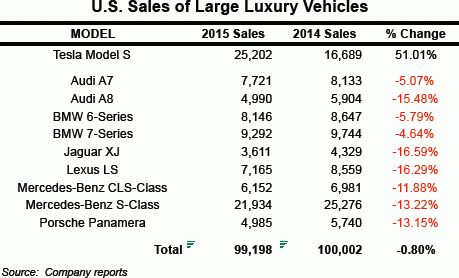 Sedan Model S, meanwhile, beats records of popularity in its price segment.  Even the fall in fuel prices, which is observed in the western markets.  According to Elon Musk,  the vehicles of the brand customers appreciate not only the opportunity to save on fuel as design, throttle response and saturation of modern technologies and high safety.  Tesla Model S on sales volumes ahead of German rivals in their native European market.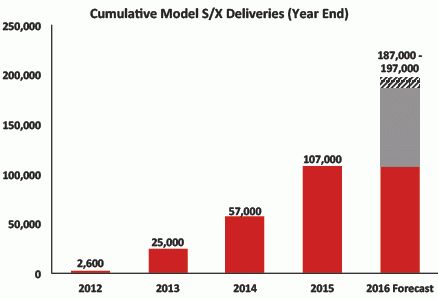 In the fourth quarter  last year Tesla increased the production volumes of electric vehicles by 76% compared to the same period last year, releasing 14,037 Model S sedans and crossovers 206 Model X. The volume of orders for the latest model grew by 75%.  By the second quarter, Tesla hopes to increase volumes of manufacture Model X up to 1000 pieces per week.  In the first quarter, the company expects to release 16,000 electric vehicles both models.  Total 2016 results should be released 80-90 thousand electric Tesla.  Now for the world road wheel 107 thousand  Tesla electric vehicles, operating in 42 countries, they have traveled more than 3.2 billion. Km.  autopilot function uses for its training of 1.6 million. kilometers each day.

Interestingly, the rate of profit Model S to the end of the year should exceed 30%, and the company manages to systematically reduce the production cost of this sedan.  With the launch of Model X there was problems, and while the rate of return on this model is far from the desired 25%, which will  be also achieved by the end of this year.  In general, this year Tesla Motors hopes to finish with a net profit, although the expansion of production and other needs will have to spend at least $ 1.5 billion. This year there will be 80 new points of sale and 300 Supercharger charging stations.  By the end of the year on the roads of the world there will be nearly 200 thousand electric cars brand Tesla.  The frequency of complaints of customers with problems on the sedan Model S for the past four years has decreased four times, and it is considered good progress towards the highest grade among the vehicles.  Following statements by Elon Musk Tesla Motors share price rose by 15%.

Select Rating :

Elon Musk promises to begin the deliveries of popular electric Tesla Model 3 at the end of 2017
Add Comment ( 1 )
ELON MUSK PROMISES TO BEGIN THE DELIVERIES OF POPULAR ELECTRIC TESLA MODEL 3 AT THE END OF 2017