Thermaltake has announced new case Core X5 and Core X5 Riing Edition, which differ in a modular design, made of steel SGCC and have a large acrylic window on the side panel. Model Core X5 Riing Edition differs only in light green colors and the presence of two 140-mm fans with a green backlight on the front and back panels, whereas in the conventional Core X5 a pair of 120mm fans without light. The rest of the new items are identical, so the more we will describe them under the name Core X5.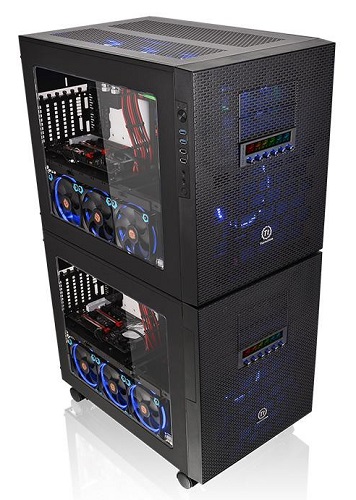 An interesting feature of Core X5 is that, if desired, the user can set each other two buildings. This gives extra space for the expansion of the liquid cooling systems, adds seats for storage, or allows you to collect the two systems.
Core Dimensions X5 comprise 463 x 371 x 540 mm, which allows to collect highly productive system and in such a case. Thus, the novelty can take motherboard size of the mini-ITX to E-ATX, it has eight expansion slots and three 5.25-inch, four 3.5-inch and three 2.5-inch bays. The body easily accommodate CPU coolers up to 230 mm, length 330 graphics card - 440 mm (depending on the availability of baskets for storage) and power supplies up to 220 mm.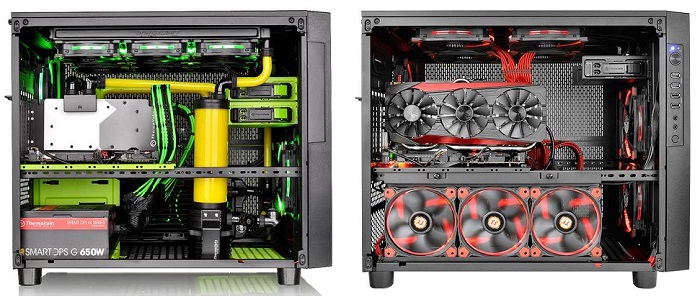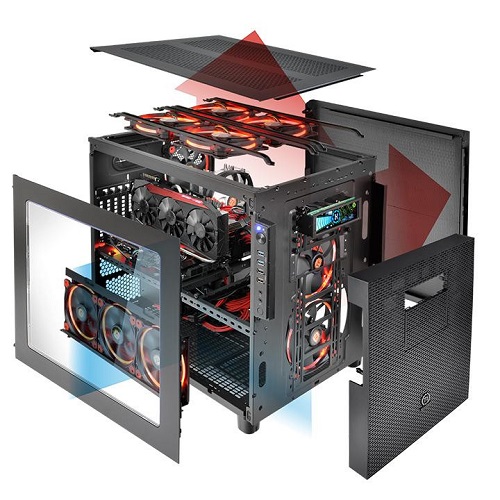 case Core X5 supports up to nineteen 120mm fans, and seven 140-mm or 200-mm three. Also, the manufacturer notes the novelty of the certificate Tt LCS, which means full compatibility with the liquid cooling system performance. Note that the case supports setup radiator liquid cooling systems and a length of 360 mm on the front panel, up to 140 mm - at the rear, up to 400 mm and two 360 mm - at the top, two 360 mm - the bottom (no BP) and 360 mm - on the side.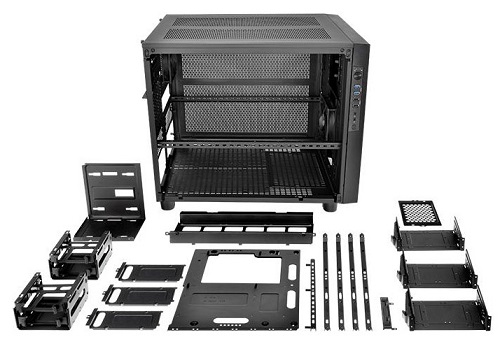 case Core X5 has a pair of USB 3.0 ports and USB 2.0, and two 3.5mm audio jacks.

Select Rating :

Thermaltake introduced the case Core X5 and Core X5 Riing Edition
Add Comment ( 1 )
THERMALTAKE INTRODUCED THE CASE CORE X5 AND CORE X5 RIING EDITION