Casio  at CES 2016 introduced its first smart watches WSD-F10, running on the operating system Android Wear.  These watches are primarily distinguished by the strength they meet the military standard MIL-STD-810G, that is protected from drops, vibration, humidity, temperature changes, freezing, etc.  In addition, the new product has excellent protection against moisture - watch can survive submersion under water up to 50 meters.
Casio WSD-F10 are able to track the altitude, barometric pressure, the exact time of sunrise and sunset, at high tide, and of course the activity of the user.  In addition, the watch can display the information that will be helpful in the campaigns, cycling and other active leisure.  Of course, like any "smart" watches, Casio WSD-F10 displays a notification from user smartphone .
There is another very interesting feature - they are equipped with two screens, one above the other.  Normal color display is located above, black-and-white screen, which displays only time.  This allows  to save battery power.  For example, when using only the secondary display clock can work about one month, but with a conventional display - only one day.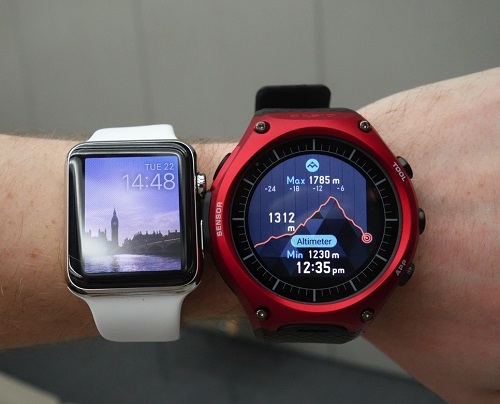 Resolution pf color 1.32-inch display "smart" watches Casio WSD-10 is 320 x 300 pixels.  The device is equipped with modules Bluetooth 4.1LE and Wi-Fi 802.11b / g / n, and a pressure sensor, an accelerometer, a gyroscope and digital compass.  

Smart watches Casio WSD-10 will be available in late March this year, and they will cost about $ 500.

Select Rating :

Casio presents its first smart watches WSD-F10
Add Comment ( 1 )
CASIO PRESENTS ITS FIRST SMART WATCHES WSD-F10