Lenovo on CES 2016 introduced a line of devices X1.  It included Windows-tablet with a modular design ThinkPad X1 Tablet, an updated laptop ThinkPad X1 Carbon, which has become even thinner and lighter hybrid notebook ThinkPad X1 Yoga with OLED-display, productive monoblock ThinkCentre X1 and monitor ThinkVision X1.
The design of ThinkPad X1 Tablet implies the ability to connect special modules that extend the capabilities of the tablet.  The first module has an additional battery,  tablet will work up to 15 hours, and the other is equipped with a pico-projector port and HDMI, and the third - 3D-camera Intel RealSense.  Also note that the tablet can connect a full-size keyboard ThinkPad with TrackPoint.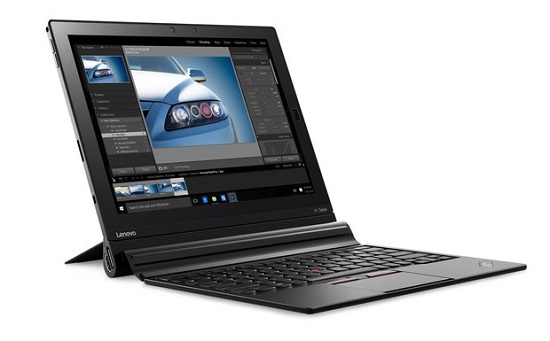 Also note that the tablet ThinkPad X1 Tablet has a removable rear cover, so the user has the opportunity to change the SSD-drive, a battery or a wireless adapter.  Also new device support for networks LTE-A.  In the maximum configuration, the tablet can be equipped with a processor Intel Core m7 vPro, 16 GB of RAM and 1 terabyte of solid state memory.  
The ThinkPad X1 Yoga, Lenovo has combined device Carbon and Yoga.  This hybrid 14-inch notebook combines powerful hardware with ease and compactness.  its dimensions are 332.7 x 228.6 x 16.8 mm, and weighs 1270 grams or 1360, depending on the display: OLED or IPS, respectively.
Lenovo offers this new product with a display OLED, and positions it as "the world's first hybrid laptop with an OLED display."  The device can be equipped with touch screens, a variety of types: OLED or IPS with a resolution of 2560 x 1440 pixels, and IPS with 1920 x 1080 resolution .
As for 14-inch notebook ThinkPad X1 Carbon, it has received the new processors Intel Skylake and SSD-drives NVMe.  The laptop is available with IPS display with a resolution of 2560 x 1440 or 1920 x 1080 pixels.  From the new battery is able to work up to 11 hours, its dimensions are 332.7 x 228.6 x 16.8 mm and it weighs 1179g.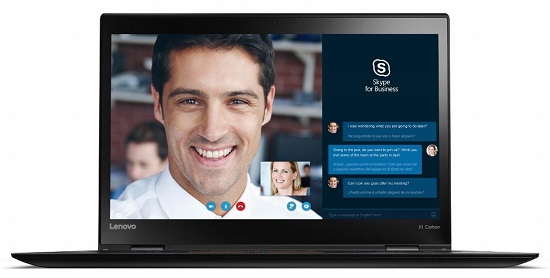 Features ThinkPad X1 Yoga and ThinkPad X1 Carbon is almost identical.  In the maximum configuration, these laptops are equipped with processors Intel Core i7 vPro generation Skylake, 16 GB of RAM and SSD-drives with interface M.2 capacity of 1TB.  Optional support for new products available LTE-A and WiGig.  Also, the laptop got three ports USB3.0, MiniDP video outputs and HDMI, and slot microSD.
Basic configuration of ThinkPad X1 Yoga include IPS-display priced at $ 1450, and with  OLED - $ 1650.  In turn,  ThinkPad X1 Carbon is from $ 1,300.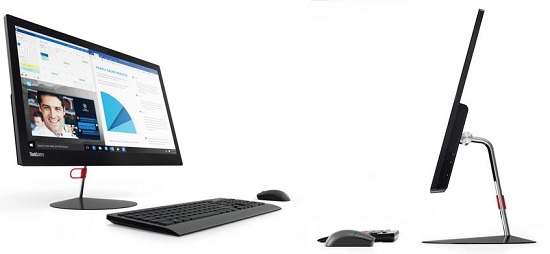 ThinkCentre X1 is positioned as one of the thinnest computer class "all-in-one" in the world.  The upper portion has a thickness of new items of 11 mm, and the bottom, which are the main components, somewhat thicker.  The device is equipped with 23.8-inch IPS-display with a resolution of 1920 x 1080 pixels.  As the base used processors Intel Skylake up to Core i7, which are made up to 16 GB of RAM, and storage is provided on the hard drive of 500 GB or SSD up to 1TB capacity.  Price ThinkCentre X1 starts at $ 1,050.
27-inch ThinkVision X1 has a resolution of 3840 x 2160 pixels.  The thickness of the display is only 7.5 mm, and Lenovo claims that it is the slimmest monitor in its class.  In the upper right corner of the screen has HD-camera with swivel mechanism that allows you to adjust its position.  Price Monitor is $ 800.
In addition, Lenovo announced two new devices in the line of ThinkPad Stack: mobile projector and a wireless charging station.  The projector is valued at $ 400, and the charger at $ 50.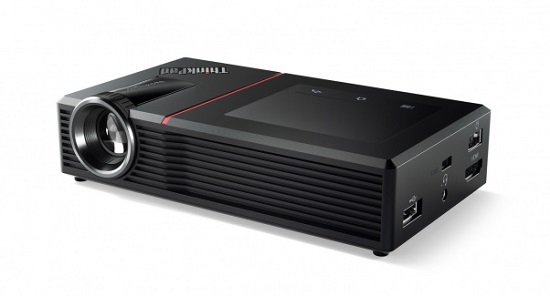 Projector Stack Mobile Projector has a resolution of 1280 x 720 pixels and brightness of 150 lumens.  It can be operated from the internal battery for about two hours, and also has wireless connectivity Miracast and Airplay.  

Select Rating :

Lenovo introduced the product line X1 and a few devices