Processors Intel Xeon E3-1200 are quite popular due to the fact that their performance are on the same level as the Core i7, but cost much less.  New Intel Xeon E3-1200 v5 work only with motherboards with intel C232, so manufacturers are starting to produce consumer motherboards on this chipset.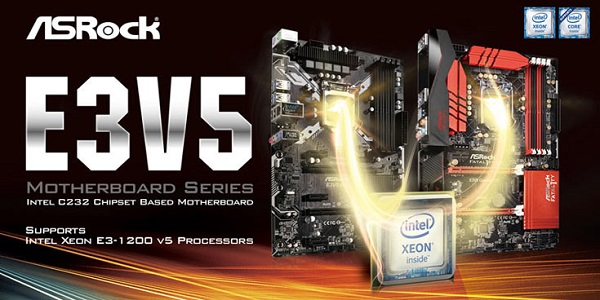 So, ASRock once introduced two new chipset Intel C232: ASRock Fatal1ty E3V5 Performance Gaming / OC and ASRock E3V5 WS.  The first of these is designed to build powerful gaming systems, and the other - workstations.  They both support the work with the Intel Xeon E3-1200 v5, Core i7, i5, i3, Pentium and Celeron processors in LGA 1151.
Note that the board ASRock Fatal1ty E3V5 Performance Gaming / OC supports overclocking the CPU and RAM, and has a number of brand-name gaming technology ASRock, including Key Master, F-Stream, and mouse port Fatal1ty.  A ASRock E3V5 WS, according to the manufacturer, is fully compatible with server operating systems.
Both models have video outputs, but lack the ability to use the integrated graphics of Intel is unlikely to upset potential customers.  
Features motherboards are very similar.  They have two slots PCI Express x16 (one x4) slot and three PCI Express x1. The processor power system motherboards five-phase.  The board Each board has Gigabit LAN controller (in E3V5 WS - is Intel I219LM), high-quality sound system on codec Realtek ALC892, SATA 3.0 connectors for connecting disk drives, as well as four USB 3.0 ports and two USB 2.0.
Select Rating :

ASRock has introduced two motherboards with Intel C232
Add Comment ( 1 )
ASROCK HAS INTRODUCED TWO MOTHERBOARDS WITH INTEL C232