A few days ago was  released a custom shell KDE Plasma 5.5 for the operating systems Linux.  It is distinguished by the unification of the interface modes and uses KDE Frameworks 5, 5 Qt library and OpenGL / OpenGL ES.  This allows  to speed up rendering and makes Plasma 5  perhaps the most beautiful graphical environment for Linux.
In the new version, it is important that there is provided a session-based technology Wayland, which may eventually be an alternative to X11.  In it implemented all of the major opportunities for solving common tasks, including those that have not been implemented in the previous release.
We are talking about moving the windows, change their size, working with multi-monitor configurations, and so on.  Also, the system has been redesigned to lock the screen on user inactivity and added protocols to manage animation effects KWin.  It is important to note that the session exceeds Wayland X11 quality rendering, including video, and security, especially when the screen is locked.
In addition, the theme has been updated widgets Breeze .  They added new widgets and existing redrawn.  There have also been expanded capabilities to run applications menu Kickoff.  For example, the opportunity to make an application on the taskbar or desktop, and view the list of recent documents opened in a particular application.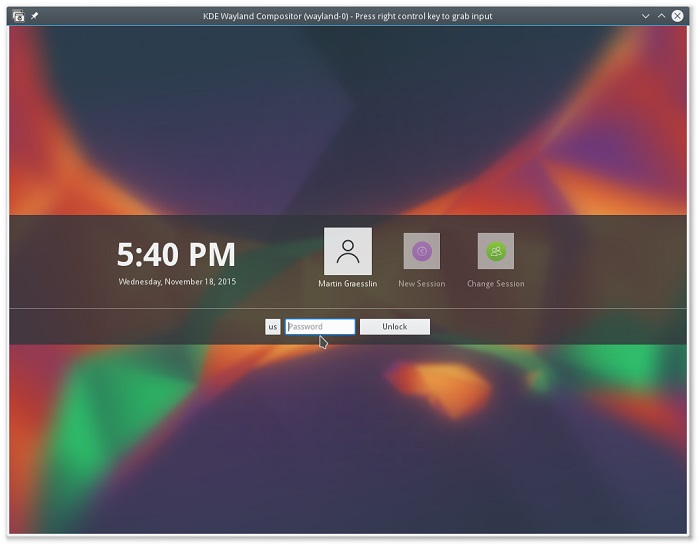 There was previously deleted from the system applet (Color Picker, allowing a color anywhere on the screen, which is useful for designers. It supports all major color encoding. Also add applets showing the disk quotas.

This is not all, but the most fundamental and significant changes in Plasma 5.5.  Apart from these, there were also added new applets to switch between rooms (the analog of virtual desktops), optimized to work with legacy applications, and so on.

In general, the benefits are obvious KDE Plasma 5.5 - a fast and smooth rendering, the presence of widgets and applets, as well as the overall work fast even on laptops.  Although there are drawbacks - 5th branch is only available for the latest version of the OS.  If you are using Ubuntu, better wait till 16.04 LTS - it will certainly be more stable than the nine-month releases.

Select Rating :

Graphical user environment KDE Plasma 5.5