Through the efforts of the Intel's Moore's Law has become synonymous with the development of the semiconductor industry. It's funny, but the Intel no longer requires them to perform postulates. At the conference International Electron Devices Meeting of ARM representative  ,  the continuation of Moore's Law requires substantial funds to optimize the architectures, systems and technologies as well as more in-depth comprehensive approach to design solutions.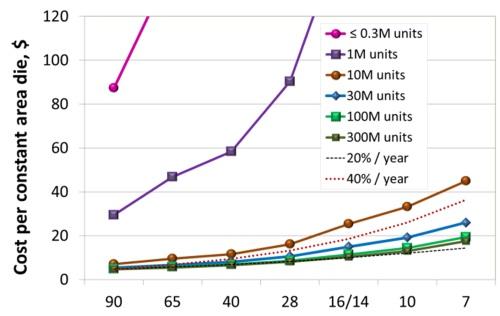 According to the observations of ARM, after  28 nm production cost-in terms of the same chip area is growing rapidly . In this issue  the expediency of the parties at least 10 million. Crystals is in question due to the sharp rise in price of products. The most acute issue may be with the release of DRAM-memory and its potential substitutes in the form of non-volatile types of memory for in-memory computing. Incidentally, the greatest potential, ARM sees in magnetoresistive memory MRAM, rather than resistive ReRAM memory or Phase Change Memory. But with MRAM it is not so simple. Compliance with the required characteristics for high-speed writing and reading may hinder the improvement of the recording density and memory should be more and more.
Potentially, it is possible to reduce the cost of a transistor (and the cost of the chip) to an acceptable level even after the 28-nm process, but this may need to degrade the speed and performance of energy-efficient electronic devices. And what's the point?
Another stumbling block in the way of reducing the cost of chips is the need to use multiple reticles and multiple passes. To solve the issue can help electron-beam (e-beam) lithography and new scanners that could potentially be 50% faster than today's . But while this is bad. The representative of the ARM showed skepticism about the EUV-lithography with respect to technical processes to 7 nm inclusive. Even the transition to EUV-projection with respect to 5-nm process technology and less expensive as a result to be the threatens same need to use multiple photomask for each layer. Even the photomasks do not tend to become cheaper.
Another problem is not resolved - is the problem of "dark silicon" . As the transistor density increasing parasitic loss including the loss in the connecting conductors. How can we help? For example, looping the connecting channels of graphene or carbon nanotubes. In the picture  Below we can see the percentage growth of dark silicon with respect to the usable area of the crystal to various technical processes. For example, for a 14/16-nm process technology, efficient on-chip can be used only 55% of its area.
There is still a lot of methods to try to reduce the cost of production in the transition to new process technologies .

Select Rating :

ARM predicts appreciation of Moores Law