Gigabyte company continues to expand its product line to Xtreme Gaming gamers, and is air-cooling system for the processor, called Xtreme Gaming XTC700.  Novelty refers to the high-performance coolers, and it is focused on the use of the most powerful and hot processors.
Cooling Xtreme Gaming XTC700 includes quite a massive aluminum heatsink, which permeates the three massive U-shaped heat pipes 10 mm thick, which in turn have direct contact with the processor cover.  Behind the radiator airflow corresponds  a pair of 120 mm fans, built on double-row ball bearings.  These fans are characterized by the rotation speed from 500 to 1700 r / min (PWM control), the air flow 14 - 53 CFM (23,79 - 90,05 m³ / h) and the noise level of 12 dBA 31 ¬-.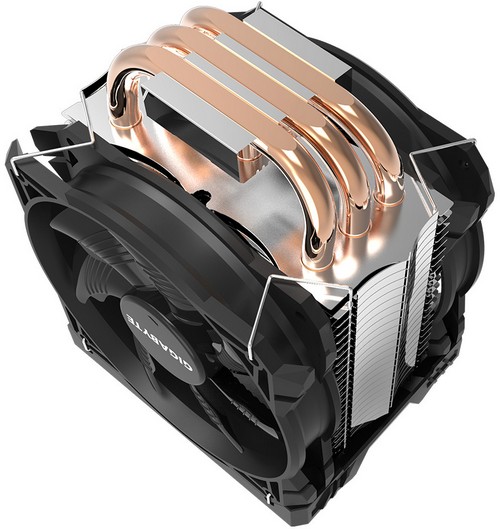 According to the manufacturer, the new product is able to withdraw from the processor more than 200 watts of heat.  It is compatible with all current CPU sockets, including Intel LGA 2011 (-3), LGA 115x and AMD FM2 (+) and AM3 (+).  The upper part of Xtreme Gaming XTC700 covered by a decorative cap with the logo of Xtreme Gaming LED RGB-backlit, which is connected via pin the USB-port on the motherboard and is controlled by a special utility.  Dimensions of the cooling system is 139 x 109 x 169 mm, and it weight a bit more than one kilogram.
Unfortunately, neither the price nor the exact date of the beginning of the cooling system sales Xtreme Gaming XTC700 company Gigabyte has not yet been announced.

Select Rating :

Gigabyte presented the processor cooling system Xtreme Gaming XTC700
Add Comment ( 1 )
GIGABYTE PRESENTED THE PROCESSOR COOLING SYSTEM XTREME GAMING XTC700