As we know now, Intel is preparing to release a new line of server processors Xeon E5, which will be called Skylake-EP.  The new line will include several models of processors for high-performance servers.  However, before the release of new processors to wait more than six months.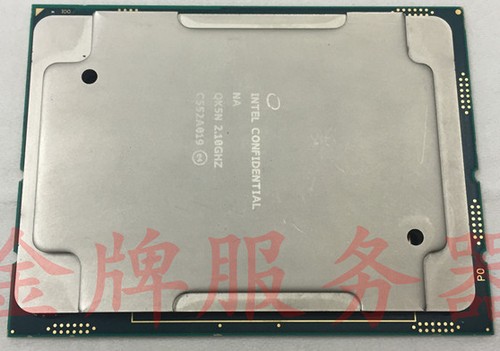 As written by our colleagues from WCCFTech, a Chinese online store revealed details about the characteristics of the flagship line Skylake-EP - processor Xeon E5-2699 v5, or rather its engineering sample.  The engineering sample processor Xeon E5-2699 v5 has 32 physical cores and 64 threads, which will work with a base frequency of 2.1 GHz.  Such a low rate is quite typical for the engineering models  processors.  By the way, for comparison, the current flagship Xeon E5-2699 v4 has 22 core and 44 flow, and works at a frequency of 2.2 - 3.6 GHz.
Earlier it was reported that the maximum number of cores in this line will be equal to 28, but it is possible that AMD is preparing Naples processor with 32 cores and 64 threads Zen.  Typically,  E7 Xeon line of processors have a 2 - 4 cores greater than that of the E5 Xeon processors, but it is possible that in the case of the generation of Skylake, Intel will release a different line of processors with the same number of cores.  The difference between them is only in the fact that the processor Xeon E7 will support the work of the platforms in Purley 8S + (8 processor sockets), while the Xeon E5 - Purley 2S and 4S (2 and 4 processor socket).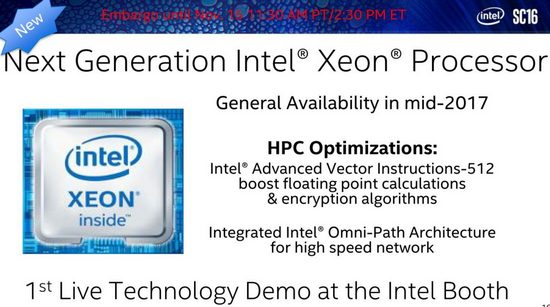 In addition, Intel has announced that processors Skylake-EP will be released in mid-2017.  It is possible, the release will take place at the exhibition Computex 2017. It is reported that these processors are optimized for high-performance servers.  For example, they will receive AVX-512 (Advanced Vector Instructions-512) support instructions to improve performance in the calculation of floating point numbers, and encryption, as well as Intel uses updates Omni architecture Part to reduce delays when working in high-speed networks (up to 56% speeds of up to 100 GB / s).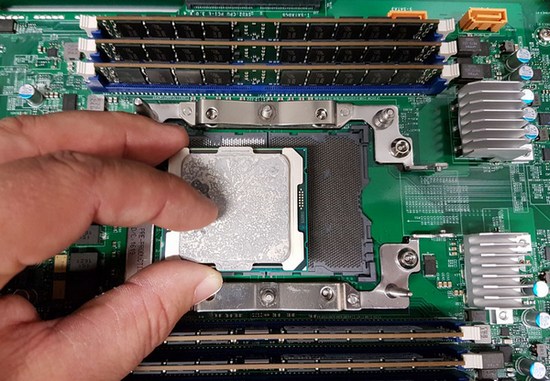 In the end, we recall that the new platform will use the processor socket with 3647, which will be called the Intel LGA 3647. This processor socket supports up to twelve slots DDR4 DIMM memory modules.  Processors will support up to six memory channels and Intel Optane memory.

Select Rating :

We learned the details of the flagship processor Intel Xeon E5 v5 Skylake-EP
Add Comment ( 1 )
WE LEARNED THE DETAILS OF THE FLAGSHIP PROCESSOR INTEL XEON E5 V5 SKYLAKE-EP