Asus unveiled its highest performing gaming notebook line with the Republic of Gamers 18-inch display and with two discrete graphics cards, called  ROG GX800.  A unique feature is the use of new items in its liquid cooling system that allows overclocking the processor and two graphics cards.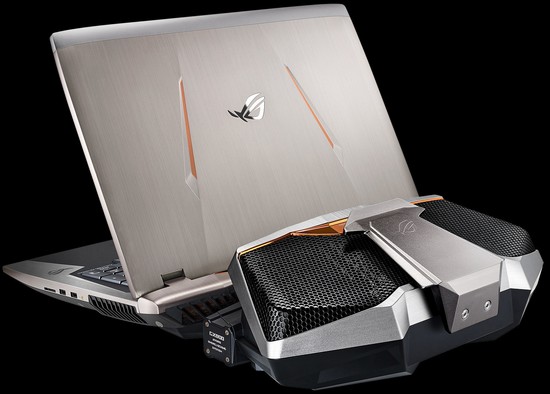 Recall that in late May this year, Asus showed ROG GX800, and it was assumed that it is equipped with a pair of the GeForce GTX 980, but now the manufacturer is the notebook with two graphics cards GeForce GTX 1080 graphics cards  . Each is equipped with 8 GB of memory GDDR5X and is built on a full version GP104 graphics processor with 2560 stream processors and a standard frequency of 1556/1733 MHz.  Complementing the couple the most productive mobile graphics cards, no less productive 4-core mobile processor Intel Core i7 6820HK and standard frequency 2.7 - 3.6 GHz.  Volume of DDR4-2800 memory can be up to 64 GB, and a solid - 512 GB (PCIe 3.0 x4).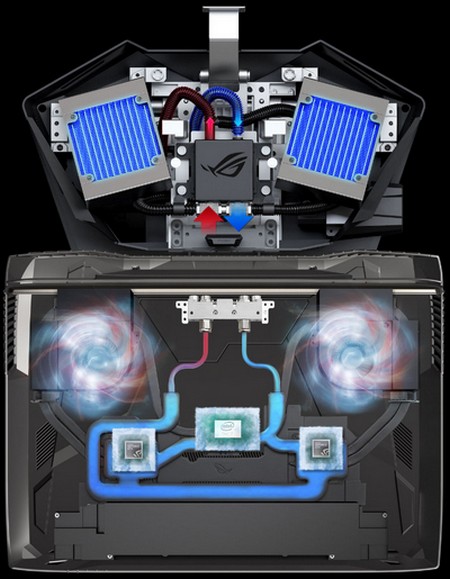 As mentioned above, the main feature of the ROG GX800 is its cooling system, called Hydro Overclocking System.  This liquid cooling system is made removable, so you can use your laptop without it. It is reported that the central frequency of the processor can be easily  increased to 4.2 GHz, and the video memory and GPU - up to 1911 MHz and 10400 MHz, respectively.  The overclocked ROG GX800 state receives more than 10 000 points in the test 3DMark Fire Strike Ultra.  
ROG GX800 notebook is equipped with 18.4-inch display with a resolution of 3,840 x 2,160 pixels and full coverage of the Adobe RGB color space.  Note that the display was supported by NVIDIA G-Sync technology that provides a smooth display output.  By the way, the manufacturer declares that the laptop is able to provide a frequency of 60 fps.  Also worth noting is the fact that the novelty is equipped with a keyboard MechTAG on the basis of mechanical switches with the progress of key 2.5 mm, and support for recognition simultaneously pressing of up to 30 keys.  

Select Rating :

Asus ROG GX800 - perhaps the most productive in the world laptop
Add Comment ( 1 )
ASUS ROG GX800 - PERHAPS THE MOST PRODUCTIVE IN THE WORLD LAPTOP