Yesterday, at the Supercomputing Conference 2016 (SC16), Intel announced with satisfaction that the AI era began.    It should also be noted that at present the company has no specific solutions for this class of problems.  There are bars and individual software solutions.  Integrated Intel hardware platform for the organization of the AI is still maturing.  
One of the key products for the AI to quickly adapt to modern supercomputers the company calls its proprietary set of HPC architecture.  This is a set of software modules, libraries, databases, specialized software and documentation.  HPC architecture 1.0 modular systems supported 29 companies developing supercomputers.  The system is optimized to run and load distribution on the Intel Xeon platform with accelerators Xeon Phi.  It allows you to quickly get started with the AI and deep learning, enabling control the outcome at each stage of development, followed by verification of ready-made solutions.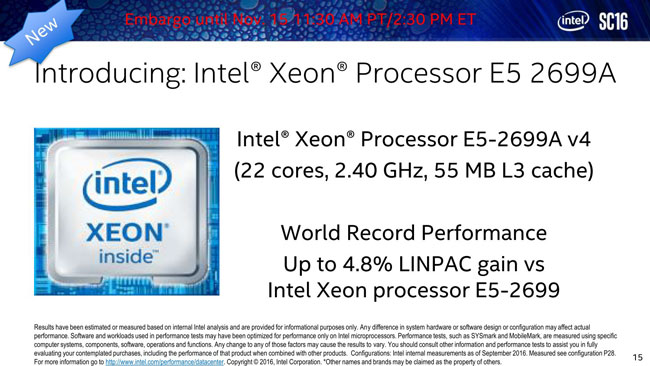 As long as the latest processor platforms with the AI company offered 2.4-GHz Xeon E5 2699A model with 22 cores (44 computational threads).  The processor is manufactured using an optimized 14-nm process technology and is worth about $ 5,000 (Broadwell architecture).  In the middle of the following year it was replaced by preparing models Skylake architecture.  They will support the extension AVX 512 and get a built-in interface Omni-Path with a capacity of 100 Gb / s.  Prior to this interface Omni-Path was the only Xeon Phi accelerator last generation.
The company promises to introduce a new generation of Xeon Phi accelerator, codenamed Knights Mill in the middle of next year.  For deep machine learning company prepares DLIA accelerator (Deep Learning Inference Accelerator) on the matrix of Altera FPGA Arria 10. The solution is designed to accelerate the work of neural networks.  Actually, this will be the first specialized hardware solution for Intel AI.
Finally,  Intel reported that the company has acquired in the summer of Nervana - young developer for AI solutions and deep machine learning.  According to unconfirmed reports, the purchase cost Nervana Intel's $ 400 million. But, thus, Intel demonstrated an active intrusion into areas related to artificial intelligence.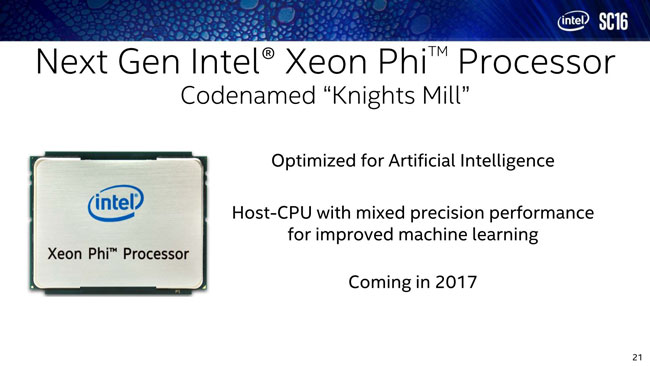 Select Rating :

Intel announced the beginning of an era of artificial intelligence
Add Comment ( 1 )
INTEL ANNOUNCED THE BEGINNING OF AN ERA OF ARTIFICIAL INTELLIGENCE