The American company Qualcomm has just completed 2016 fiscal year.  Only a few days before the publication of the quarterly report giant announced its intention to buy NXP Semiconductors - the largest developer of semiconductor products for the automotive industry.  The deal will cost Qualcomm to $ 38 billion. That seems to be a significant amount, even against the backdrop of the annual revenues of $ 23.6 billion. Moreover, that Qualcomm's net profit for the previous fiscal year did not exceed $ 5.7 bn., Having increased by a moderate 8% compared to the the previous year.
As usual, the bulk of the revenues provided by selling processors and modems, but the bulk of the profits (85%) give the royalties to other market participants.  In the last quarter of the demand for microprocessors was high, and in the Chinese market, new licensees.  Of the ten leading manufacturers of smartphones in China, nine is a licensee of the American company.  On Snapdragon processor 820 based more than 150 models of smartphones and tablets.  This has helped to make Qualcomm revenue slightly better than its own expectations.
In the past quarter, Qualcomm shipped 211 million. Microprocessors and modems.  According to company forecasts, the results of 2016 fiscal year show a negative trend in this area of activity.  Perhaps buy NXP now seems leadership Qualcomm's "insurance" against failure in the smartphone market.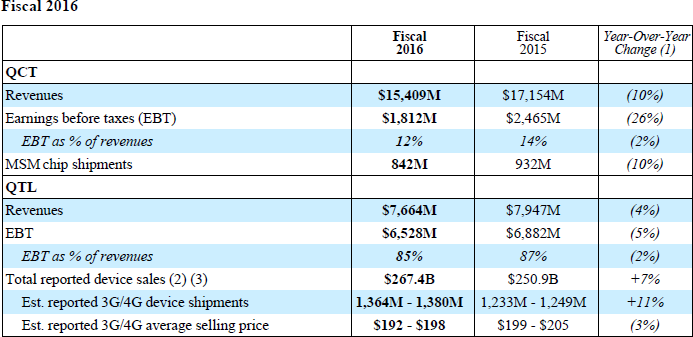 The demand for devices with modems 3G / 4G, from the sale of Qualcomm receives royalties which, next year will continue to grow, mainly due to the markets of emerging economies.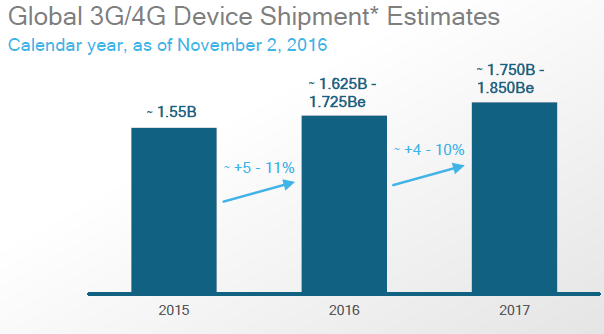 With NXP, Qualcomm hopes to gain a foothold in promising markets such as automotive electronics segment and the "Internet of Things".  The development of the latter is closely connected with the expansion of generation networks 5G.  In the first half of 2018 the market will be the first commodity unit, equipped with modems 5G production of Qualcomm.

The average price of a smartphone,  equipped with Qualcomm's components, at the end of fiscal year 2016 decreased by 6% to $ 184, which corresponds to the company's forecasts.  In 2017 Qualcomm connects hopes on the growth of royalties from smartphones sold in India.  Global sales volume of smart phones in 2017 will grow by 5-6% as Qualcomm said.

Select Rating :

Qualcomms net profit rose a half times