Among the functional layout and features shown in this week's video card Gigabyte GeForce GTX 1080 Xtreme Gaming WaterForce WB were found worthy of special mention.  If the developers of graphics solutions in the face of AMD and NVIDIA are usually talking about their products compatible with virtual reality devices provided in the context of the minimum performance level, the video card manufacturers are working on more pragmatic issues like the layout of the display output ports.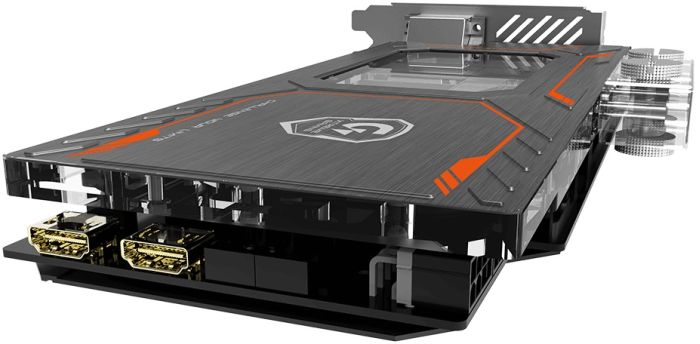 Gigabyte, for example, placed a "stern" of its graphics cards, two additional HDMI ports that can be used to connect a virtual reality helmet.  The effective length of the cable at the same time can increase, because it will not have to go around the system unit.

On the back of the video we see the usual array of ports, one DVI-D, one HDMI, and three DisplayPort.  Another two HDMI ports facing inside the system unit.
Eight-two additional power connector, which is equipped with this video card, have special LEDs - they attract the attention of the user, if there are problems with the quality of electricity supply.  For example, if the auxiliary power cables are simply not connected.  Of course, the effectiveness of such a light-signaling devices should be installed to keep the system unit card in sight, but the presence of RGB-illumination means that it is always in sight.
As Asustek Computer, Gigabyte Technology company uses for PCB production and assembly elements automated line.  Properly installed, according to the manufacturer, eliminates sticking contacts,.  PCB not only uses power elements "class Titan X", but has a corrosion-resistant and moisture barrier.  Additionally, it protects the PCB from dust and insects traces.  Apparently, this is the perfect card for enthusiasts.  According to Gigabyte, the same coating used in the aerospace industry.

 

Select Rating :

Gigabyte has prepared a video card GeForce GTX 1080 to work with virtual reality helmets
Add Comment ( 1 )
GIGABYTE HAS PREPARED A VIDEO CARD GEFORCE GTX 1080 TO WORK WITH VIRTUAL REALITY HELMETS