Intel is very pleased with its capabilities using the heritage of Altera , and therefore are not going to stop the release of FPGA programmable matrices.  
On Intel website pages, it was reported the beginning of deliveries of 10 Stratix customers sample matrices.  These products are already labeled Intel logo, as promised CEO of the corporation.  Particularly noted that Stratix 10 issued on 14-nm technology in the United States.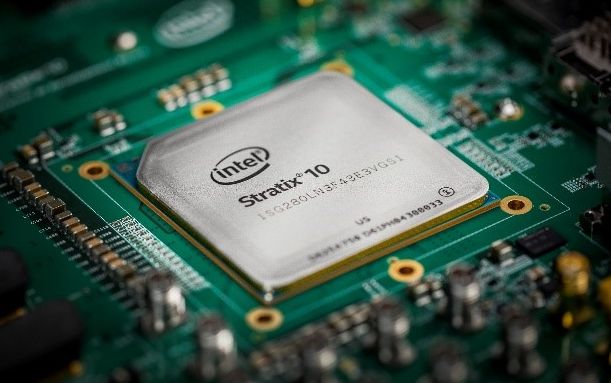 Four cores with ARM Cortex-A53 architecture coexist with a certain amount of memory type HBM2, all programmable matrix comprises 5.5 million. Logical elements.  HBM2 type memory may in this case contain four or eight "layers", it is capable of transmitting TB to 1 / sec.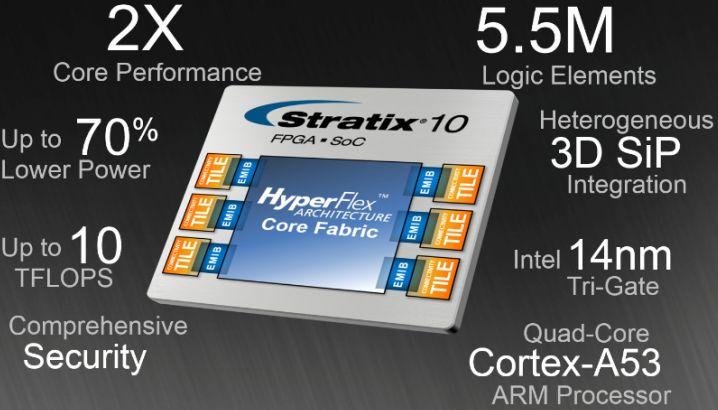 Quad-core 64-bit processor ARM Cortex-A53 with a frequency of 1.5 GHz in this case is used for auxiliary needs .  Acceleration calculations are engaged in programmable logic elements.
Compared with the previous generation dies, explains Intel, the new Stratix 10 provides performance gains in half and increase the storage density of elements in five times, power consumption at the same time 70% lower at equal performance with Stratix V. The

Intel customers are already receiving samples of Stratix 10, volume shipments will begin in the current year.  Programmable matrices are used in telecommunications equipment, "cloud" systems and servers.

Select Rating :

Intel starts shipping 14-nm Stratix matrices 10 ARM Cortex-A53 architecture