On Global SSD Summit last week Samsung Company at the annual event made a number of statements .
We'll start with Google's search query report on the modernization of processors and  HDD replaced by SSD.  Almost all readers of our site know that changing the CPU for a long time was not true.  According to Google, from 2012 requests for replacement HDD to the SSD began to prevail over the demands of the processors replaced.  According to data for 2015, the question of upgrading to an SSD was raised 40 million times.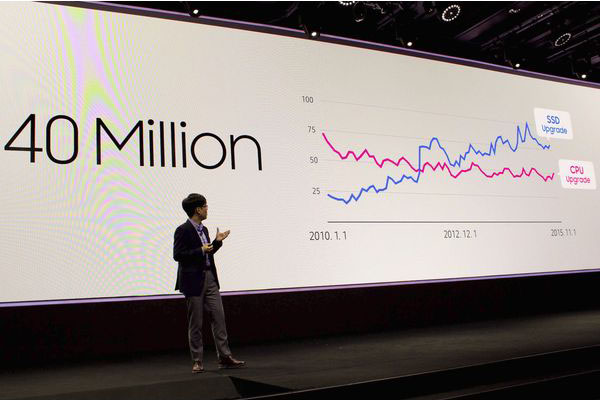 It is no secret that the mass of the growing interest in SSD caused by a decrease in the cost of solid-state memory drives.  In 2012, the cost of storing 1 GB of data on the SSD in the average was $ 1.17.  In 2016, the cost of storing 1 GB of an SSD has decreased to an average of $ 0.36 (69%).  This decrease led to an explosive growth in the SSD purchases 6 times for these four years.  On average over the past 5 years, the smart phone market, the most active market, grew by 19.1% per year, whereas the SSD market has grown each year by an average of 54%.  It also means that Samsung begins more and more to supply the SSD, while the share of NAND-flash supply for smartphones is reduced in the flow of its products.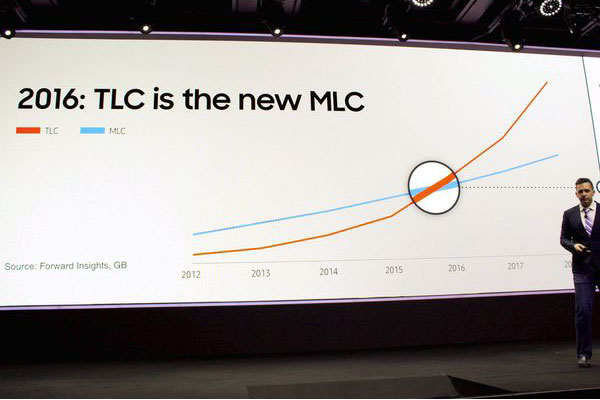 Separately emphasize that today the  company expand memory production of three bit cell for planar of NAND, and for 3D NAND.  According to representatives of Samsung, "TLC - this new MLC".  In support of this the company reported that in 2016 TLC NAND supply volumes began to exceed supply volumes MLC NAND.  Actually, the first fears of a low resistance to overwriting TLC NAND compared with MLC NAND gone.  They were greatly exaggerated.  Moreover, three bite memory has played a significant role in the further reduction of prices on the SSD.  It is expected that the turn switch to the production of NAND memory foubit and five years later we hear that "QLC - a new TLC".
Current price comparisons show that the most popular today, 256 GB SSD closer in value to 1 TB hard drives.  By the middle of next year, 256 GB SSD will become cheaper 1 TB HDD.  The same, but in relation to the 512 GB SSD will happen in 2020.  This trend, by the way, will force to abandon the production of hard disk drives with small capacity.  If the price of SSD small volume can be lowered below $ 40, the cost of components for HDD assembly never fall below this mark.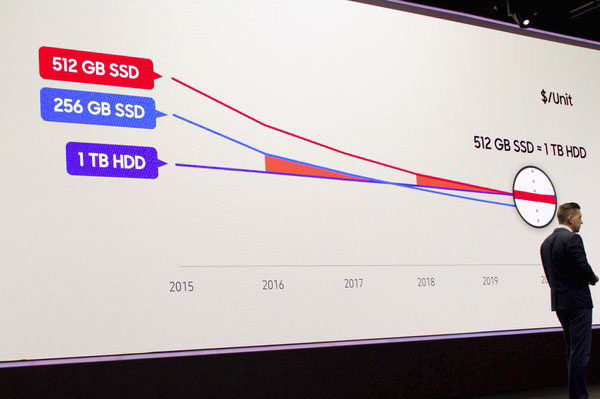 Finally, an interesting observation was the Samsung SSD volumes forecast for supply of SATA and PCI Express with support NVMe.  Year "breakthrough" in the supply of PCIe / NVMe-Drive promises to be the next in 2017.  Share SSD with faster interface PCIe / NVMe exceeds supply in the annual share SSD with SATA interface and will reach 64 million units to 52 million units.  It is expected that the SATA interface will flourish only among fans of hard drives, while drives with support NVMe and PCI Express bus in the mass occupy a niche in the solid-state memory storage.

Select Rating :

Samsung has told about prospects for SSD price reduction
Add Comment ( 1 )
SAMSUNG HAS TOLD ABOUT PROSPECTS FOR SSD PRICE REDUCTION