As you know, yesterday, AMD has officially introduced new desktop hybrid processors (APU) - 8 models codenamed Bristol Ridge.  All are based on Excavator core, although using a new platform and a new processor socket Socket AM4.    It directly adds to the speed of the processors, for a 22% increase in capacity during memory access when compared to the previous generation.  DDR4 memory is also more economical in consumption than DDR3.
According to AMD opinion, A12-9800 processor with four cores and a TDP of 65 watts is equal to the model Intel Core-i5 6500 performance.  In the case of 35-watt versions  both models in the AMD processor A12-9800E face 17% faster Intel Core-i5 6500T.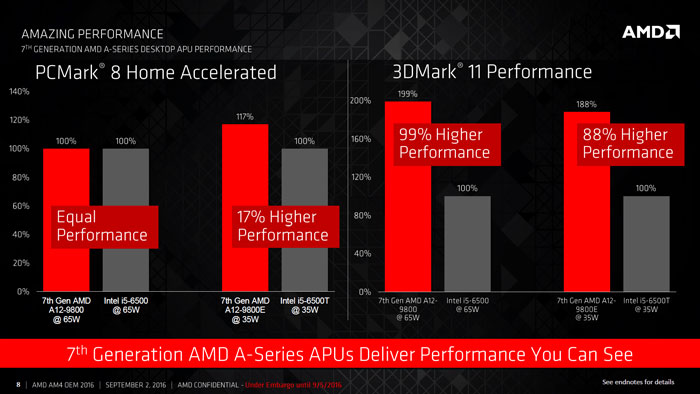 The same is true when comparing the energy efficiency of AMD Bristol Ridge and Intel Skylake models.  Depending on the task, the effectiveness of AMD innovations can be more than two times the energy efficiency of similar parameters  Intel processors.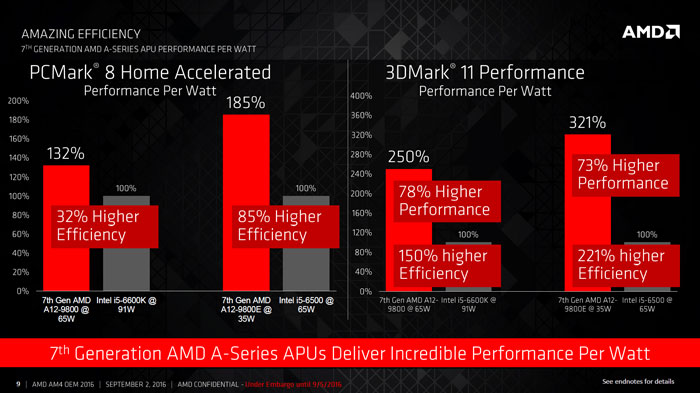 Bristol Ridge processors will be supported by new chipsets AMD: B350 and A320 bulk systems and X / B / A300 for solutions such as small form factor nettop.  This chipset will be focused on the PC enthusiast.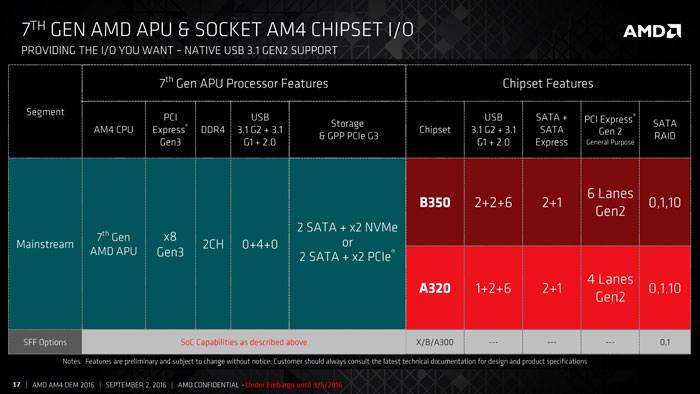 Chipset B350 receive two rather than one port USB 3.1 Gen2 and 6, instead of 4 PCI Express 2.0 line.  The rest of the possibility of B350 and A320 are identical: 2 port USB 3.1 Gen1, 6 USB 2.0, a 2 SATA 6 Gb / s and 1 port SATA Express, RAID configuration the same.  We add new chipsets consume only 5.8 watts, 2 watts less than in the case of "mobile" AMD A78 chipset and FM2 + platform  .
Select Rating :

Performance of AMD Bristol Ridge desktop processors