One following the other Microsoft is realizing new builds in this case we deal finally with the RC 1 (release candidate) , The new build available is windows 7 7057 .The last two release from Microsoft (32 and 64 bit) version was not a fast a previous , now we hope for a better performance, since we deal already  with the RC1 .
As before we compiled all old builds with this new one on a small performance preview for windows 7 , Our test system is the same as before, and it includes :
Processor : Core 2 Duo E8500 @ 3.6 GHz (450 MHz x8) , 1.15v,

Motherboard : Biostar Tpower Ip45 .

Memory : 2x 1 GB Ocz Reaper extreme 1150 MHz (5-5-5-11) . (@1180 MHz)

HDD : Raid0, 2x Seagate 320 GB
Without excess words let us pass directly to the benchmark , we will start from daily use application (Compressing / Decompressing) .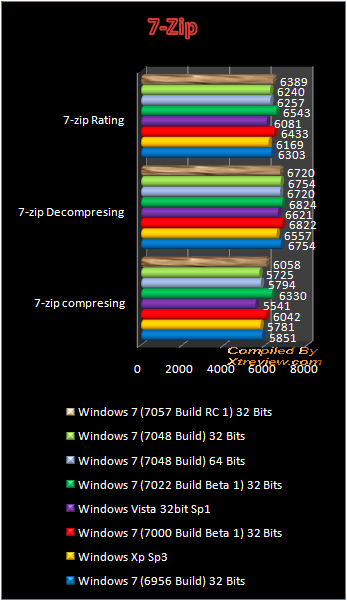 The compressing performance was fairly improved in this build, we can finally say that we moved from the dead point (with 7048 build) and the performance start clumping again . For winrar benchmark we have almost the highest result among all windows 7 , while for 7-zip we have a completely respectable performance.  
The same figure was observed under Everest this new build leads all other operating systems in some benchmark such as : z-lib and show a good result in all other , the performance is almost equal to the fastest until today build 7022 .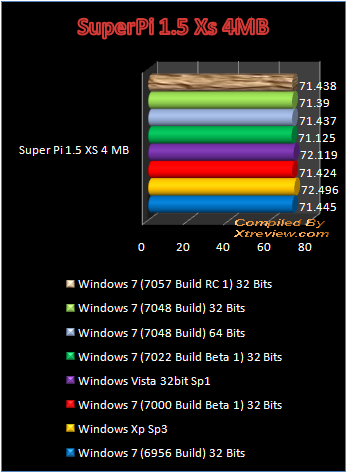 Super Pi benchmark is average the new build was ranked as 5 from 8  .
For HDD we have also a good result with about 100 mb read and write the OS performance is just a bit slower than the 7022 build .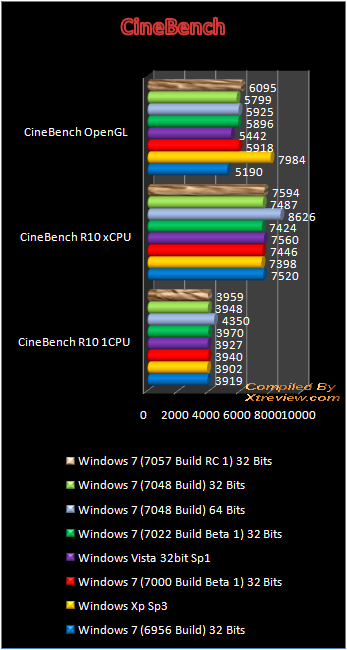 Well cinebench show the highest score for this os under OpenGL and Xcpu rendering , while in the third test the new os scored 3959 vs 3970 in the 7022 build (the second fastest window 7 build in this test) .
First let us note that FurMark refused to run in this version without Nvidia driver , we noted already from previous builds the slow Graphic performance using this Driver , but we don't have other choices , FurMark result is pretty slow we hope to see a new Nvidia driver soon for an additional test .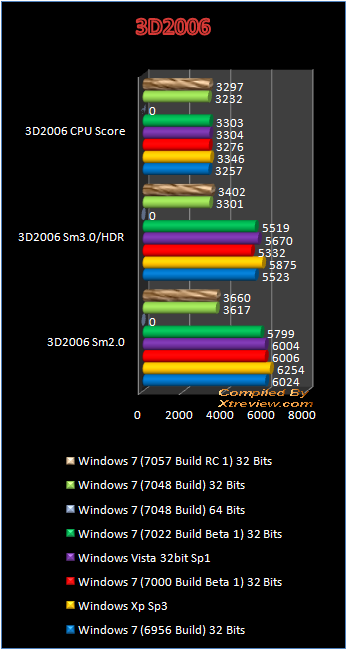 The 3D2006 performance was improved if compared with the pervious build , but it is slower than older versions (tested without Nvidia driver) .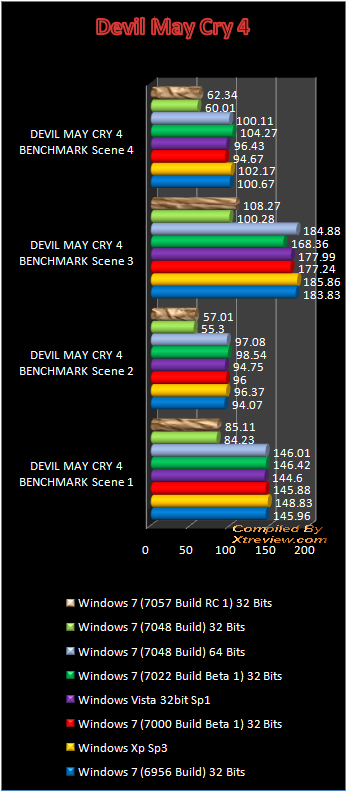 Finally, Devil may cry 4 reflect the same result observed under 3D2006 .
Let's wait for new builds and especially for new Nvidia driver in order to check the real gaming performance under this OS.
Download It Now For Free.