The American Internet giant Amazon is preparing for the Christmas sales season, which in recent years is characterized by a heightened interest in smartphones and tablets.  
The most affordable offer is a six-inch Fire HD 6 with eight or sixteen gigabytes of memory and quad core processor with a frequency of 1.5 GHz, is offered for $ 99.  For this tablet does not support the network 4G (LTE).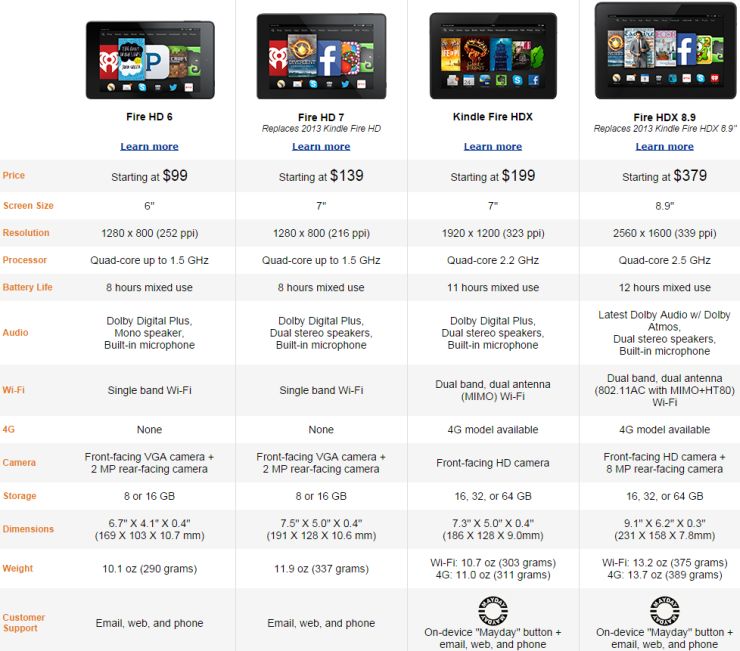 For $ 139 you can get a seven-inch tablet Fire HD 7, which replaces the 2013 model with the same screen size.  As a six-inch version, this tablet offers a display resolution of 1280 x 800 pixels and a quad-core processor with a frequency of 1.5 GHz.  Opportunities cameras of both devices are quite modest: front disclaims resolution VGA, rear is limited to 2 megapixels.  The amount of memory you can choose between 8 and 16 GB.
The tablet are available in five color options of the case: black, white, pink, dark blue and yellow-green citron.  By the way, the increased impact resistance and glass Gorilla Glass useful these tablets in the next incarnation - they will also be sold in a complete set Kids Edition for children, which implies the presence of a soft cover and a two-year warranty with no restrictions on the number of applications as a result of mechanical damage.  In addition, the purchase of "junior" version of the tablet Fire HD Fire HD 6 or 7 release parents from paying for branded content for the whole year.  This tablet costs $ 50 more expensive than  analogue  ($ 149 and $ 189, respectively).  On sale tablet in this series will arrive on October 21.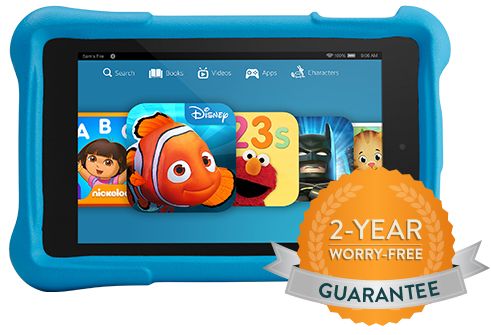 Along the way, has been updated and the tablet Fire HDX 8.9, which was the latest quad-core Qualcomm Snapdragon processor 805 (2.5 GHz), fast Wi-Fi (802.11 ac MIMO) and a powerful sound system Dolby Atmos.  Resolution 8.9-inch display is 2560 x 1600 pixels and a front camera capable of capturing high-definition video, and the rear has a resolution of 8 megapiskseley.  Like many other new Amazon this season, Fire HDX 8.9 is equipped with a smart backlit screen, which changes its brightness depending on the ambient conditions.  The tablet can be equipped with means of access to the network generation 4G (LTE), the memory capacity ranges from 16 to 64 GB.  The manufacturer claims that the new Fire HDX 8.9 not only twice as loud iPad Air (we have in mind the possibility of the speaker), but the tablet easier to Apple (20%).  Additionally, the tablet will be offered keyboard with trackpad, the thickness of which does not exceed 4.8 mm, and the price will be $ 59.  Magnetic cover clamshell will be offered for $ 55.  The basic version of Fire HDX 8.9 will cost $ 349, the modem 4G increases the cost by $ 100.  New product will be available from October this year, and the tablet will receive a 7 Fire HDX upgrade the operating system and will be offered for $ 199.
Two other novelties Amazon belong to the family of devices for reading electronic books.  They are updated with a seven-inch screen Kindle for $ 79, which is now equipped with a touchscreen interface and a faster processor (20%).  Volume SSD increased to 4 GB.  With the overall dimensions 169 x 119 x 10.2 mm, the unit weight 191 g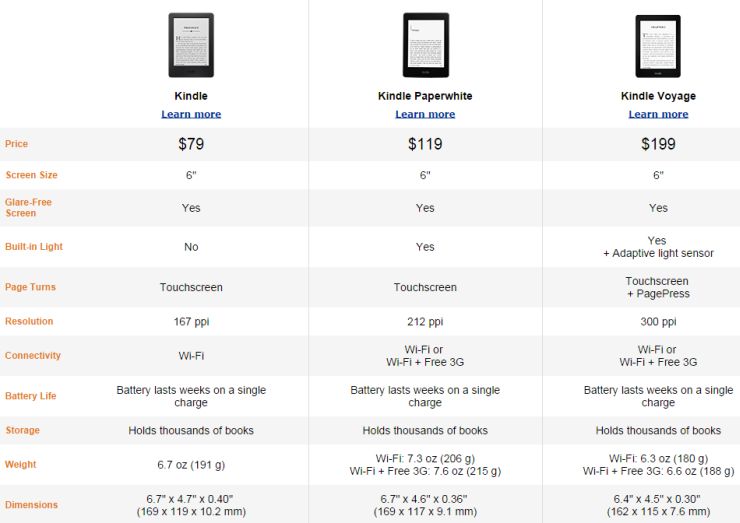 Kindle Voyage, which is due to the compact size and weight, combined with advanced features will appeal to fans to read while traveling.  A six-inch device with increased up to 300 dpi resolution has a "smart" lighting and thickness of the shell is not more than 7.6 mm at a weight of 180 g , new feature allows you to turn the pages PagePress by clicking on the frame of the display, which has a feedback and confirms the command is barely noticeable vibration.  There is also a free internet  3G in hundred countries around the world.

Kindle Voyage will be available from October, priced at $ 199 for the version with advertising illuminations.  You can give them an additional $ 20, and to get a device that supports 3G, you need to pay $ 269.  Memory capacity Kindle Voyage also is 4 GB.  Detailed characteristics of all the new Amazon can be studied on the manufacturer's website . c

Select Rating :

Amazon is ready to fill up the tablet for new fans
Add Comment ( 1 )
AMAZON IS READY TO FILL UP THE TABLET FOR NEW FANS