Samsung is one of the few active supporters of Tizen platform.  This operating system has been applied in the smart watch Gear, but at the end of this quarter Tizen will be  running in smartphone.
Today, the main operating system for Samsung stands Android, but the South Korean giant has repeatedly made it clear it does not want to depend on Google and its licensing policy.  Samsung will take Tizen successful if This week, Google held a conference on the modular smartphone Ara.  Project leader, Paul Eremenko , during his appearance before the public once said that Google plans to launch a modular smartphone in January 2015, thereby withstand standard two-year development cycle.  Cost of the device is $ 50, it will consist of directly screen, processor and wireless module Wi-Fi, the other modules users can purchase separately.
Incidentally, a division of Google Advanced Technologies and Products (ATAP) is going to involve third-party developers to design plug-in modules.  Also, Google has partnered with the Massachusetts Institute of Technology and Carnegie Mellon University, and now 3D Systems to create a three-dimensional printing technology, suitable for the production of modules. smartphones under its control will occupy 15% of the company's supply, said Han Kil.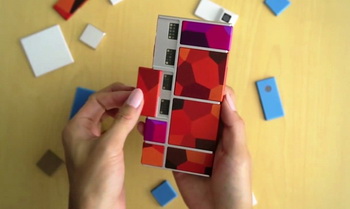 According to Eremenko, lifetime  smartphone Ara will be 5-6 years.  Modules  will be fixed using electromagnets - they consume power only during switching on or off, constantly maintaining the magnetic field is turned on.  Thus, the module is securely in place, and if necessary, a magnet holding it can be disabled by a special appendix.  For communication between the modules will be used standard UniPro.

 

Select Rating :

Google promises to release modular smartphone Ara in January 2015
Add Comment ( 1 )
GOOGLE PROMISES TO RELEASE MODULAR SMARTPHONE ARA IN JANUARY 2015