The Taiwanese company Acer has brought to Berlin at the IFA 2015 a few of their new products.  Among them are smartphones not only Android, but on Windows 10 Mobile.
According to GSMArena, smartphone Acer Liquid Z630 runs on Android Lollipop and is equipped with a 5.5-inch IPS-display with a resolution of 1280 x 720 pixels, 8-megapixel main camera and front.  It is based on a single platform with MediaTek MT6735 quad-core Cortex-A53 processor with a clock frequency of 1.3 GHz and graphics Mali-T720, which is supplemented with 1 or 2 GB of RAM and 8 or 16 GB of internal memory.  Autonomous operation provides battery 4000 mAh.   Acer Liquid Z630S different from Acer Liquid Z630 only by the presence of 3 GB of RAM and 32 GB of internal memory.
Acer Liquid Z530 is equipped with a 5-inch IPS-screen with a resolution of 720p, MediaTek MT6735 chip with 1 or 2 GB of RAM and endowed support for 4G LTE.  A Liquid Z530S has similar specifications, with the only difference being that the amount of RAM increased to 3 GB, and the built-in storage capacity - up to 32 GB.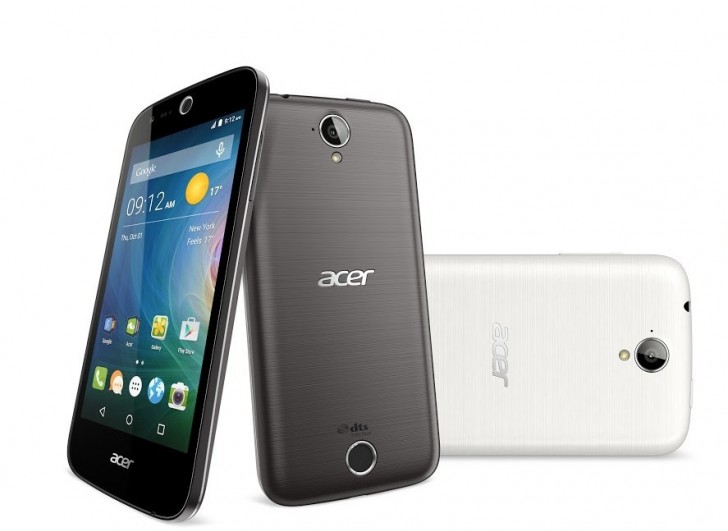 Smartphone Acer Liquid Z330, running Android 5.1 Lollipop, refers to the budget unit.  Its technical specifications include a 4.5-inch IPS-display with a resolution of just 854 x 480 pixels, 1 GB of RAM, main and front camera with a resolution of 5 megapixels and a processor Qualcomm Snapdragon MSM8909.  
As for the smartphone Acer M330 and M320, they are in terms of their technical specifications and appearance are identical with the new line of smartphones Acer Liquid Z. Their major difference lies in the fact that they are running a mobile version of Windows 10.
 Predator 6 impresses with its 6-inch display, 4GB of RAM and processor  MediaTek (likely, Helio X20), as well as 21-megapixel main camera.
As Predator 8, it has an 8-inch display with a resolution of 1920 x 1200 pixels, 2 GB of RAM, 32/64 GB of internal processor and Intel Atom X7-Z8700.

Select Rating :

Acer has brought new smartphones at IFA on Android and Windows 10