Day meeting of Intel's representatives with investors last week passed .  Agenda promised to discuss the many interesting questions, but the official publication of the forecasts were limited by the dynamics of revenues and changes in dividend policy.  To get access to the conference, it was necessary either to present it in person or to register on a special website, and then download the presentation and listen to the record performance of Intel representatives .
On ZDNet appeared extensive material on the results of the event.  For example, ever  the September session IDF 2014 , we know that generation processors Skylake before the middle of next year will not appear.  In fact, the next slide simply arranges the information available, no sensations in the desktop segment we did not expect.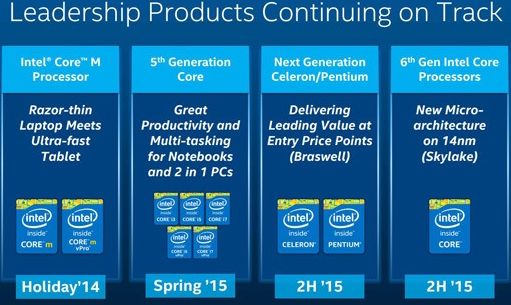 Until the end, the market will be individual products based on 14-nm processors generation Core M Broadwell, but all of them will apply to mobile solutions.  Laptops and monoblock mobile processors Broadwell appear in the spring of 2015.  In the second half of 2015 will be presented 14-nm processors Skylake, at the same time under the trademarks Pentium and Celeron market will conquer the 14-nm processors Braswell, who are the successors of the Bay Trail-M.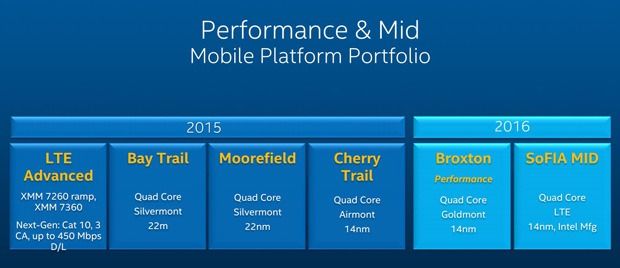 Mobile segment in 2015 will be rich in Intel premiere  .  For example, part of the range of processors Bay Trail will replace the 14-nm processors Cherry Trail architecture Airmont.  Already in 2016 the company they will make 14-nm processors Broxton architecture Goldmont, which will raise performance to a new level.  Interestingly, for mobile solutions midrange Intel 2016 product family prepare SoFIA with integrated modem, which will be released on 14 nm technology in their own facilities of the company.  These processors will have four cores and support networks LTE.
In general, the development of telecommunication capabilities of their Intel processors will be given special attention.  Even during the upcoming restructuring developers SoFIA together with experts in modems go into division Platform Engineering Group, and in bigger Client Computing Group will move specialists processors Atom, which will work together with the creators of other mobile and Intel desktop processors .  On the development of SoFIA will be allocated a large part of Intel budget .  If earlier the company was ready to cooperate only with those customers who are not its direct competitors, it is now replaced by rhetoric: the processor giant not only provides access to its production capacity and technology to all comers, but also willing to help with the design tools.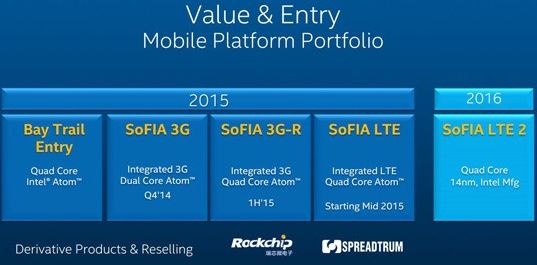 In the next six months will be the decision SoFIA 3G quad (SoFIA 3G-R), and by mid-year, Spreadtrum will begin to produce an integrated version of the quad-core Atom with a modem LTE.  In 2016, these solutions not only move to 14-nm technology, but also will be produced at the facilities of Intel instead of TSMC, which in 2015 will use 28-nanometer process technology.

Select Rating :

Intel will promote SoFIA in the middle market segment
Add Comment ( 1 )
INTEL WILL PROMOTE SOFIA IN THE MIDDLE MARKET SEGMENT