EVGA company promised to equip the GeForce GTX 780 with original cooler ACX.  Total company yesterday unveiled seven models of GeForce GTX 780, only two of them will have the reference cooling system, and four models will get ACX with two fans.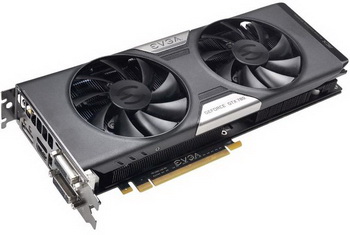 Besides the two large fans that are immediately apparent, EVGA graphics card with ACX cooling system  can be identified by the increased size of the ventilation slots on the rear panel.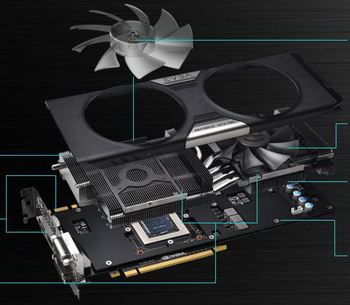 Among the two already available GeForce GTX 780 with ACX cooling system a model has standard frequencies 863/902/6008 MHz. The second video card refers to a series Superclocked and the proposed frequencies increase to 967/1020/6008 MHz .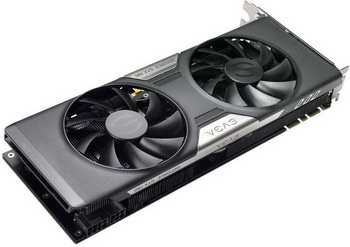 Talking about the benefits of its ACX cooling system , EVGA company constantly makes a sly comparison with the standard version GeForce GTX 780, then with some competing models also equipped with two fans.  First , in comparison with the reference one by 15% decrease in the GPU temperature  , and the provided base steel plate cooling system not only improves the rigidity, but also by 15% decreases the temperature of the memory, and  7% lowers the elements force .
The strength of the fan blades is increased by 700%, and their weight is reduced by 25%, the use of double-row bearings in fans allowed in 4-fold increase  their estimated life (12 years) and a 15% reduction in noise levels.  However, it should be remembered that the standard version of the GeForce GTX 780 is equipped with a highly efficient and yet quiet cooler .The volume of the space occupied by the cooling section EVGA is 40% greater than the abstract competing product.  
Finally, we note that in addition to four graphics cards GeForce GTX 780 with a cooling system ACX, the company offers the EVGA graphics card and (03G-P4-2780-KR) with another cooler - it runs on standard frequencies 863/902/6008 MHz.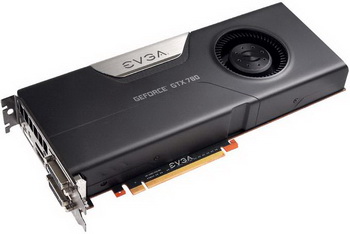 The cooling system is very similar to the reference.