Scythe company , which practice  the release of inexpensive CPU coolers at a reasonable price, introduced the model Tatsumi.  According to the developer, the CPU cooler Tatsumi has incorporated a number of new findings, including an optimized configuration of the fins MAPS and progressive fixation HPMS, which allow to raise the budget efficiency to new heights.  The device weighs - about 450 grams with the fan , the compact size - 102 x 146 x 83 mm.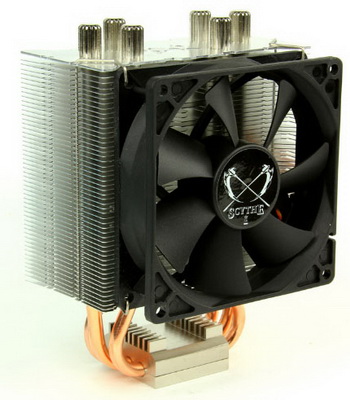 Base cooler Tatsumi - it plated copper base, through which pass three U-shaped 6mm copper heat pipes.  Cooled radiator tubes and 92-mm fan Attached Glide Stream.  The fan rotation speed is in the range of 300-2500. / Min.  Control - PWM.  Fan can push from 11.4 to 94.3 cubic meters of air.  Noise respectively varies from 7.2 to 31.7 dBA.  
Retention mechanism Hyper Precision Mounting System (HPMS) migrated to the model Tatsumi cooler Mugen 4. Proposed method of attachment is reliable and allows you to shoot without removing the coolant from the motherboard system unit . Supported processor sockets is wide and includes both processors Intel, and AMD processors : Intel LGA 1150, LGA 1155, LGA 1156, LGA 1366 and LGA 2011; AMD sockets AM2, AM2 +, AM3, AM3 +, FM1 and FM2.
Cost of Scythe Tatsumi (model SCMGD-1000) set at 21.60 euros, excluding taxes.  

Select Rating :

Scythe presented CPU Cooler Tatsumi
Add Comment ( 1 )
SCYTHE PRESENTED CPU COOLER TATSUMI